Last Updated on April 18, 2021 by admin
I'll start with a cliche, as, unfortunately, it's the first thing that comes to mind when you think of WhatsApp: the app - with over a billion users now - is one of the most popular mobile messaging apps that exist today.
While the core functionality that WhatsApp offers has remained broadly the same over the past few years, several features/customization options have been added to the app for the benefit of users. Here, in this tutorial, we'll discuss 3 useful WhatsApp-related how-tos.
Please note that all the features mentioned here have been tested on WhatsApp for Android. They may or may not work on iOS.
How to tag people in a group chat
Yes, you can now tag other participants in any of your WhatsApp groups. This way, the tagged person will receive a notification (even if he/she has muted the conversation - could be annoying sometimes).
Anyway, to access the feature, all you have to do is to type @, and a menu (containing names/numbers of all the people in that group) will pop up.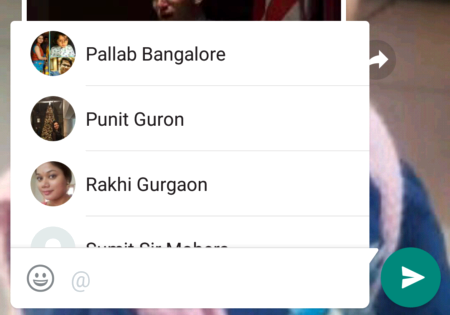 Select the one you want to tag (you can tag multiple people as well) and you are good to go.
How to add formatting to messages
WhatsApp now also offers text formatting - you have the bold, italic, and strike-through formatting options. For bold, surround the text with asterisks (*); for italic, surround the text with underscores (_); and for strike-through surround the text with tilde (~).

How to hide your last seen timestamp
Yes, yes, we understand that this could be important for various reasons, and we won't go into the details 😉 . Coming to the point, here's how you can do this: Go to Settings->Account->Privacy->Last seen, and select Nobody.
Keep in mind that if you choose to hide your Last Seen timestamp from others, you won't be able to see other people's Last Seen as well.