Last Updated on May 4, 2017 by admin
Want to send a WhatsApp message to multiple friends, but don't want to create a group or select them each time? You'll be glad to know that this can be done officially. In this tutorial, we will discuss how you can do this.
Please note that all the instructions mentioned in this article have been tested on a Marshmallow powered Nexus 5, and the WhatsApp version we've used is 2.17.146.
How to create a WhatsApp Broadcast List?
Yes, Broadcast List is the solution to your problem. As per official documentation, Broadcast Lists are "saved lists of message recipients that you can repeatedly send broadcast messages to, without having to select them each time."
Here's how you can create a WhatsApp Broadcast List:
Launch the app and in the Chats tab, tap Menu Button -> New broadcast.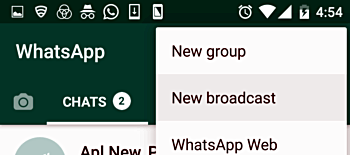 You'll be asked to select the recipients from your contact list. Once you're done with that, a new list of broadcast recipients will be created. Here's the screenshot of the list created in my case: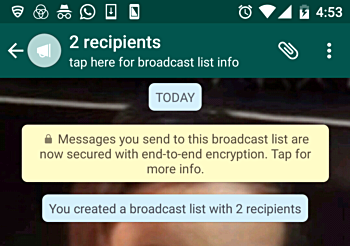 So now any message you send here will be delivered to all recipients in the list. "The recipients will receive the message as a normal message. When they reply, it will appear as a normal message in your Chats screen; their reply will not be sent to other recipients in the Broadcast List."
For more information on Broadcast Lists, including how to edit and delete them, head here.