Last Updated on April 18, 2021 by admin
WhatsApp is no doubt one of the most popular mobile messaging services today. The official app has a simple UI and is easy to understand and use. However, there's one problem: you can't officially access multiple WhatsApp accounts on a single device.
If you are an Android user, and have been looking for a solution to this problem, you'll be glad to know that's what we'll be discussing here in this tutorial. But before we do that, it's worth mentioning that all the instructions mentioned here have been tested on a Google Nexus 5 running Android Marshmallow (v6.0.1).
Parallel Space
There are many third-party applications that'll solve the problem for you, and one of them is Parallel Space. The app is there on Google Play, so you can easily download it from there.
"Clone and run multiple accounts of the same app simultaneously, and use themes to style your unique space," the app's Play Store page says. "It also protects user privacy by making apps invisible on device with the Incognito Installation feature. Moreover, users are able to customize themes of their cloned apps and the themes of Parallel Space to style their own space."
After the app is installed, launch it and you'll see a list of icons corresponding to already-installed apps on your device. As a first step, Parallel Space asks you to approve the apps you want to clone (be default all are selected).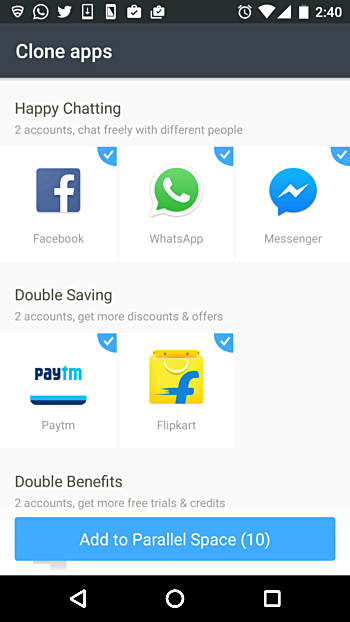 Un-select the rest to make sure only the WhatsApp icon remains selected.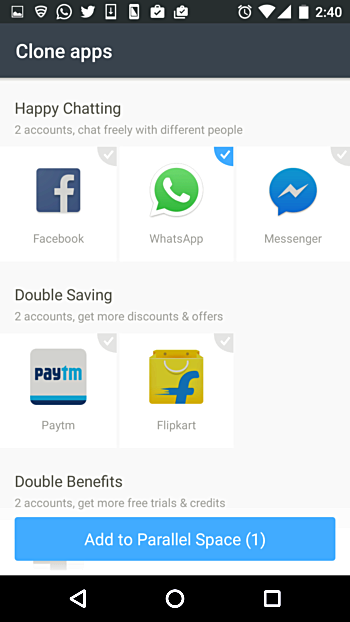 Now, tap the 'Add to Parallel Space' button at the bottom. You'll see that the WhatsApp app gets cloned.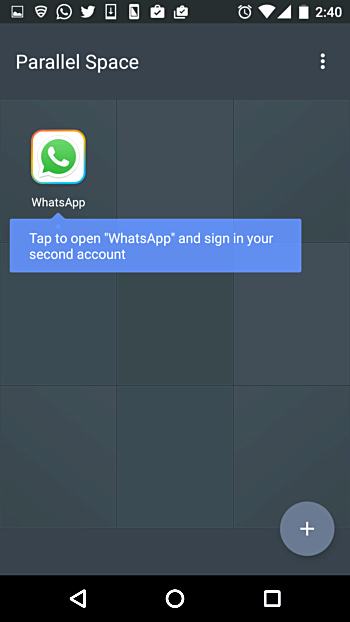 That's it, now just tap the WhatsApp icon and you'll be able to access the service using a different account: