Last Updated on May 4, 2021 by admin
This tutorial explains the process to take a screenshot from your iPad or iPhone screen. There is no app required to take the screenshots.
1) Navigate to the screen that that shall be saved as screenhot. In my example I will take a screenshot of the home screen.
2) Press the "Power" button (in the upper right corner of the iPad) and the "Home" button (in the middle of the lower bar of the iPad) simultaniously.
You will hear a "camera click" and the screen will fade to white for a second when the screenshot is taken. The screenshot is saved into Photos folder on the iPad.
To view the screenshot, open the "Photos" app:

and tap on the photo.

The easiest way to transfer the screenshot to your desktop PC or MAC is to send it by email. Tap on the Icon in the upper right corner of the screen:

and select "Email Photo":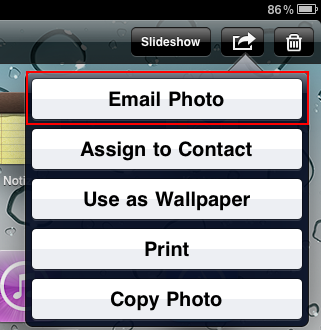 This tutorial works on iPad and iPad 2 and iPhone.