Last Updated on April 18, 2021 by admin
If you always wanted the Exposé effect on your Ubuntu Desktop, here you go!  Active corners, known from Mac as Exposé, allow you e.g. to see all your open windows at once just by one mouse move into the corner of the desktop. Very useful if you are a multi-tasking god or goddess!
First open you terminal and copy & paste:
sudo apt-key adv --recv-keys --keyserver keyserver.ubuntu.com FE85409EEAB40ECCB65740816AF0E1940624A220
Log in with your admin password and continue:
sudo gedit /etc/apt/sources.list
Then add the following lines at the end of the file:
deb http://ppa.launchpad.net/tualatrix/ppa/ubuntu karmic main
deb-src http://ppa.launchpad.net/tualatrix/ppa/ubuntu karmic main
The source of Ubuntu tweak will be added to your repository. Updates for Ubuntu-Tweak will be installed automatically in future. Install Ubuntu-Tweak:
sudo apt-get update
sudo apt-get install ubuntu-tweak
Before using Ubuntu-Tweak, make sure you enabled visual effects for your desktop. Go to System/Preferences/Appearance an check under Visual Effects "Normal".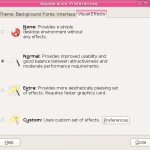 Check your system tools for Ubuntu-Tweak, open it and go to Desktop, then to Compiz Fusion as you can see here: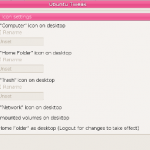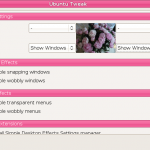 Now you can enable a function for every corner, as you like. That's it.