Last Updated on April 18, 2021 by admin
Enabling USB Support in Virtualbox means to be able to access USB drives plugged into your physical machine on your virtual machines. To accomplish this, you first need to download the newest version of Virtualbox (4.1.8 at the time of this writing), which is not available in the Ubuntu repositories but on the Virtualbox homepage:
https://www.virtualbox.org/wiki/Downloads
Uninstall any previously installed version if present and then install the downloaded Debian package with a package installer taking care of dependencies, such as gdebi.
Next, head back to the homepage and install the Virtualbox Extension pack which supports USB 2.0.
Now you have to make yourself member of the vboxusers group. Go to the Users and Groups Settings in your Control Panel and hit Manage Groups. Scroll down to the vboxusers group and hit Properties. Check the box next to your username and click OK.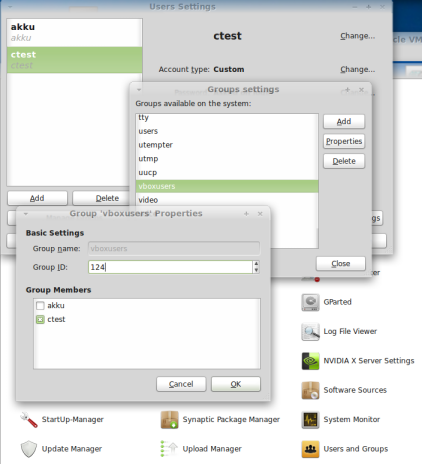 Last but not least you have to enable USB for the virtual machine. Close it if it is running and enter the Settings window. On the left panel, select USB. Check Enable USB Controller as well as Enable USB 2.0 (EHCI) Controller. Then click the button with the small green plus-symbol and add the USB device you need:

If you run the machine a USB symbol will indicate that USB is enabled and a device is running on virtual machine: