Last Updated on April 18, 2021 by admin
Like Ubuntu's Unity desktop environment, but not really a fan of Unity Dash? What if you could use the classic GNOME-style application menu in Ubuntu Unity? If that's what you are looking for, then you're at the right place, as in this article, we will quickly discuss how you can do that.
Before we move ahead, it's worth mentioning that all the commands and instructions used in this tutorial have been tested on Ubuntu 14.04LTS.
Get GNOME-style application menu with ClassicMenu Indicator
Yes, the tool that'll let you do this is ClassicMenu Indicator. As the name suggests, it's a "notification area applet (application indicator) for the top panel of Ubuntu's Unity desktop environment and other environments that support the AppIndicator protocol."
To download and install the tool, just run the following command:
sudo apt-get install classicmenu-indicator
After the aforementioned command is successfully executed, you can launch the tool by running the following command:
classicmenu-indicator
The above command will result in the tool's icon appearing in the Ubuntu system tray. Click on the icon, and you'll get the classic GNOME-style application menu you're looking for.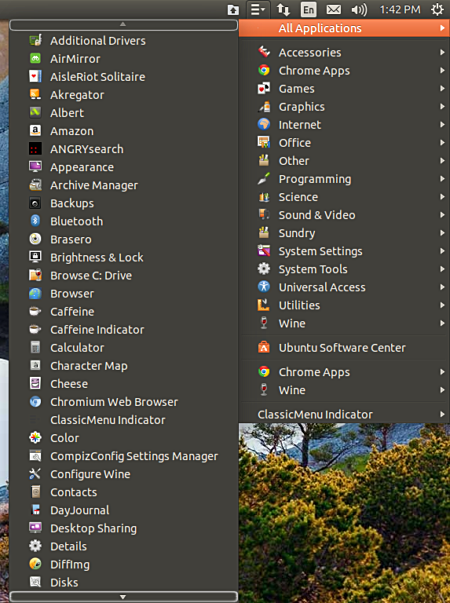 "If you use WINE applications or games they are available in ClassicMenu Indicator, too," the official documentation says. "Depending on your local settings you may have to open the Preferences dialog from the ClassicMenu Indicator sub-menu and activate the WINE menu there."
Fore more details on the tool, head here.