Last Updated on April 18, 2021 by admin
Apart from writing your sheet music with pen and paper you can also use a sheetscripter. These applications allow you to drag and drop notes  and all other symbols you might upon a virtual sheet and format it the way you like it. One of these applications for Linux is called MuseScore, you can find it in the standart Ubuntu repositories.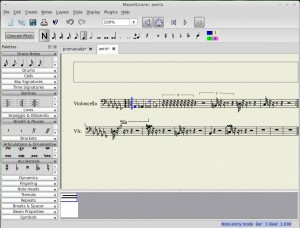 To insert notes just activate the large N panel on the top bar and drag and drop notes upon the score. To insert other symbols, open the appropriate tab and drag them onto the note or the place you need them to have.
You can also easily import .midi files to view their scores.