Last Updated on July 14, 2017 by admin
More often than not, when we leave our computer, we lock it to prevent any misuse. Locking usually blanks out the screen - only a login interface appears if you do any mouse/keyboard activity. But what if you do not want to blank out or disable screen but still want it to be locked?
There may be situations where-in you may want to give others a view-only access to your system, meaning they'll be able to see whatever is happening on the screen, but won't be able to do anything using mouse or keyboard. If you're looking for a way to do this, you'll be glad to know there's exists a tool - dubbed xtrlock - that's built for this very job.
In this tutorial, we will discuss how to install and use xtrlock. Please note that all commands/instructions mentioned here have been tested on Ubuntu 16.04LTS.
How to lock Ubuntu with screen enabled
Execute the following two commands to install the tool:
sudo apt install xprintidle
sudo apt install xtrlock
After the aforementioned commands are successfully executed, the tool can be launched simply by running the following command:
xtrlock
The moment the above command is run, you'll notice a virtual lock (mouse and keyboard will stop responding), as well as a blue-colored lock icon in place of the mouse pointer.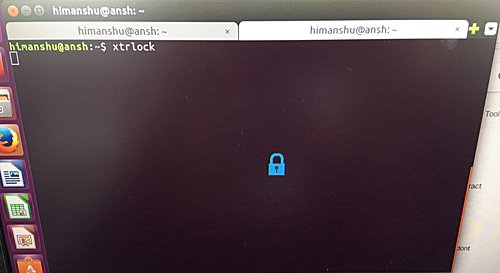 So, here you have it. The system is locked, but the screen and the applications are still visible. To unlock, just type the password and press enter.