Last Updated on April 18, 2021 by admin
Update, 06/04/2012: Classic Shell is still working on Windows 8 Release Preview, build 8400.
I have already posted an entry about third party applications that reproduce the missing Start button in Windows 8, but neither of the two was enough to be the real thing (see my previous post here).
So here comes another Start menu called ClassicShell. ClassicShell was originally designed to bring back features of XP's and Vista's start menu and explorer to Windows 7 but now fits well on the Windows 8 desktop. It has some minor bugs and flaws as well, but these don't really stop your workflow and additionally ClassicShell is the most customizable start menu of the three candidates.
Upon installation you can choose what features of the suite you would like to use - apart from the start menu, there also is a classic explorer menu as well as a classic Internet Explorer design and others.
The start button integrates into the panel really well and comes with a beautiful seashell-formed Windows icon.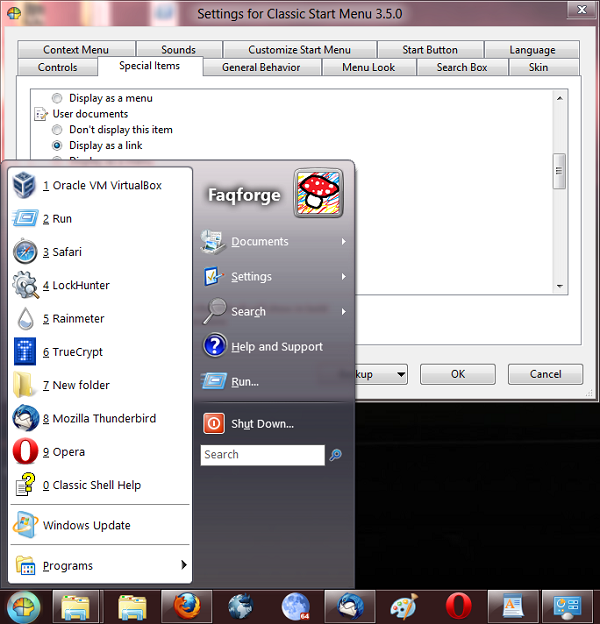 The start menu settings are available through a sub-menu or on right-click and can edit nearly everything - from delays to skin, width, numbers and menus; you can even switch between different styles of menus (XP, Vista, etc.) and with a bit of fiddling, you can also adjust your skin to your likings entirely - head for the homepage for a guide. The programs are displayed in a sub-list, just like they were in XP and in the typical recently used programs menu. By default, ClassicShell disables the bottom-left hot corner that opens the Metro screen (though it was enabled for me for some reason once) but Metro is still available by holding Shift while clicking the start button.
So far, if ClassicShell gets rid of minor bugs, it might be the reason for me to install Windows 8 on a machine later on.
But it does not only bring along a start button, it also changes the looks of your explorer if you want it to. If you ticked the option during installation, the ribbons in your explorer will be gone and replaced by a much simpler interface: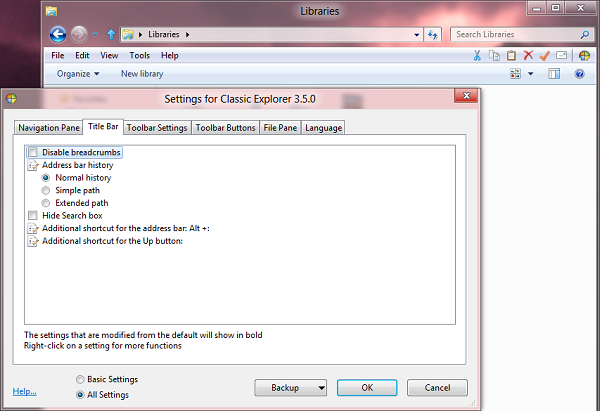 As for the start button, there is a great number of customizations you can apply to the explorer bar. You can adjust it to the looks of XP or Vista and add many of the standard explorer actions to the top bar as icons.
You can download ClassicShell here: http://classicshell.sourceforge.net/