Last Updated on April 18, 2021 by admin
By working with different drives it sometimes may occur that two drives are given the same drive letter - usually this is not the case but it may always happen due to bugs. It is also possible that a drive loses its letter "spontaneously". What results is that one or both of them is/are not shown on Computer anymore. To resolve this error, a new letter has to be assigned to the drive with the help of the Disk Management. Right-click Computer and choose Manage. On the left pane, select Storage > Disk Management and you will see the connected drives listed in the main screen.
To change or assign a drive letter, right-click target drive and select Change Drive Letter and Paths.... On the window that pops up choose Add... or Change.... Afterwards select a new drive letter from the drop-down menu: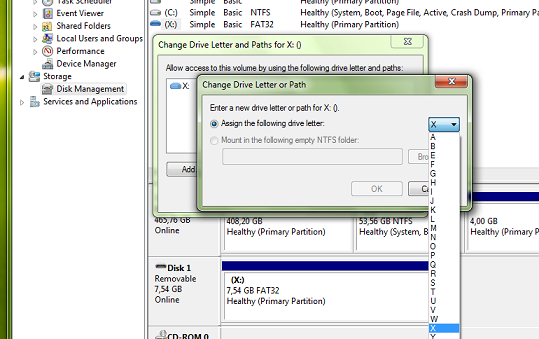 Remember that you choose a letter that is not already used by another drive - to ensure that, choose one on the end of the alphabet. Your computer won't have had the chance to fill all the letters up to there already. Usually it should not be possible to choose a letter that is already in use anyway, but it is good to always double-check things like these if the above error should occur.