Last Updated on April 18, 2021 by admin
The common computer user often does not know that a simple uninstall of a software he or she is no longer in need of will not erase the program completely but will leave traces on your hard disk. These may stack up to a fairly high size and can slow your computer down. The same goes for all kind of temporary files your system stores, the most common being temporary internet files. Deleting these files manually can be a hard thing to do, especially if you do not know where to find those and how to recognize them. That is why there are plenty of tools on the internet that allow you to search for and erase them automatically.
One of these helpful tools is CCleaner.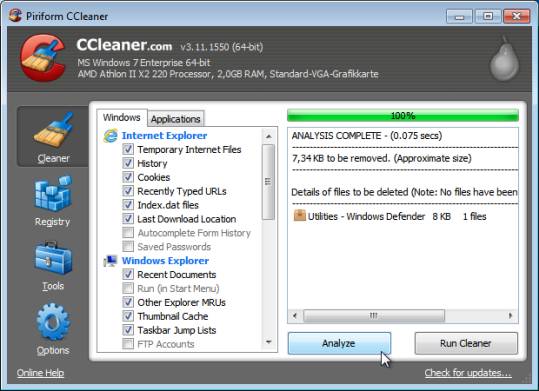 CCleaner is a tool that allows you to clean up your Windows Registry (the key storage that is responsible for every kind of configuration on your system), uninstall software properly without leaving any traces, disable autostart processes, delete all kinds of temporary files and even format your hard drives and overwrite them up to 35 times so that your old files will no longer be accessible by any usual means.
CCleaner for Windows can be downloaded here: http://download.piriform.com/ccsetup311.exe
It is also available for Mac on: http://download.piriform.com/mac/CCMac1.00.077.dmg
CCleaner's menu is divided into four main options, being Cleaner, Registry, Tools and Options. The Cleaner section is there for deleting temporary files, cookies, recent documents and other stored files of that kind. The Registry section searches the registry for disposable entries such as missing shared DDLs, unused file extensions or obsolete software and gives you the option to delete these entries. In the Tools section you can uninstall software, delete system restore points and wipe your hard drives empty. Options, speaking for itself, lets you configure your settings, mainly to include or exclude data from being deleted.