Last Updated on January 18, 2012 by CSch
7Customizer is a tool that, with the help of the Windows Automated Installation Kit (WAIK), provides a nice graphical user interface for customizing your Windows 7 installation disk.
To start, insert your disk into the disk drive and copy all of its contents to a folder on your hard drive (this should not contain any space characters in its name and entire path - just call it something like InstallCD and place it directly on the C:\ drive). Next, download and install 7Customizer and the WAIK (see download links below). Run 7Customizer and direct it to the necessary paths: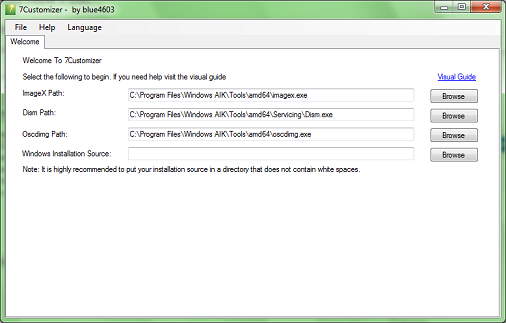 WAIK usually is installed in the C:\Program Files\Windows AIK directory. The three services that are needed here are located (depending on your architecture - for 32 bit systems it's x86, for 64 bit systems it's amd64) in C:\Program Files\Windows AIK\Tools\amd64 and C:\Program Files\Windows AIK\Tools\amd64\Servicing. The fourth line needs to be directed to the folder you put your installation disk's files into. Afterwards select the Windows version and proceed with customizing your disk: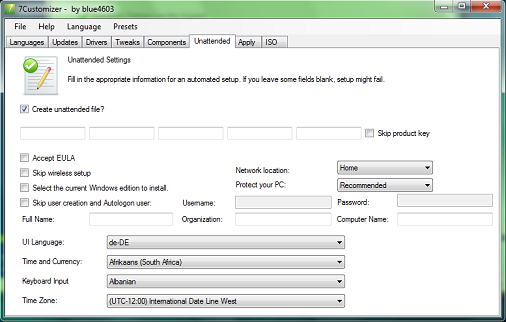 You may insert language packs, Windows Updates, drivers of any kind, remove parts of the original installation, create an Unattended Script that covers everything but the partitioning (the unattended file can also be created manually with the help of WAIK to automate everything including partitioning, it is up to you which is more suited for your plans) or apply any kind of tweak to your registry or your interface such as customizing your wallpaper, taskbar, etc. etc. To get a burnable image out of the process, check the option to create an ISO-file - these can be made bootable and written on a DVD. Finish your doings on the Apply tab and prepare for a bit of waiting.
The .iso file that is produced is an image of the installation disk. Write it to a DVD and make it bootable.
Download WAIK here: http://www.microsoft.com/download/en/details.aspx?id=10333
Download 7Customizer here: http://www.msfn.org/board/topic/139077-7customizer-a-windows-7-customization-and-deployment-tool/