Last Updated on March 27, 2013 by CSch
Windows takes a nice precaution for us when it comes to installing a clean Windows system on a hard drive or partition that already has a version of Windows installed: If you forgot to backup files from your old installation but already have the fresh one installed you still have a way of getting what you want:
When installing Windows onto an already existing Windows, most of the old files are stuffed into a folder called windows.old which is placed on your newly formated C:\ drive. That folder contains the most important data from your previous installation, which is the Users folder as well as the Windows and Program Files folders. This way, you have an automatic backup of your files that you can get back to if you forget to backup yourself.
Now there is one downside to this procedure: the folders that are backed up tend to get very large. They can take up several gigabyte of data, depending on how large your folders were. So if you don't actually need that backup, why keep it?
All of you who have ever tried to delete Windows system files will already see where this is going: part of the windows.old folders are old system files and Windows still recognizes them as those. But Windows actually has a neat little trick to delete them anyway!
Open up the Control Panel and head to the System and Security section. Now click on Free up disk space under Administrative Tools:

A window comes up that is usually used to cleanup temporary files and stuff. But we need to clean up system files, so click on the appropriate button in the Description panel: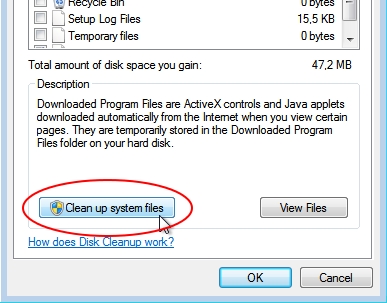 A similar window will upon but this time we'll have different cleanup options. Previous Windows installation(s) is the one that we want to remove: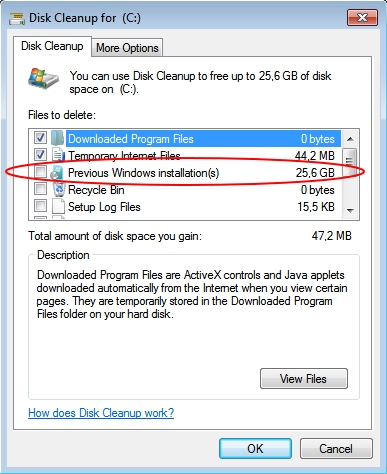 As you see it is 25 GB large on my machine which is a lot of space for files i don't need anymore. That's why, after we have double-checked if we really, really don't need them, we check the box next to it and click on the OK button. Confirm by clicking Delete Files on the next window and you are good to go with a whole lot of free space.