Last Updated on April 18, 2021 by admin
Users of AVG 2012 antivirus software will already have noticed the AVG Advisor pop-ups informing you about high memory usage of browsers (I usually get them from 300 MB RAM upwards) which come up relatively often and are quite annoying since your browser uses more memory the more tabs you open.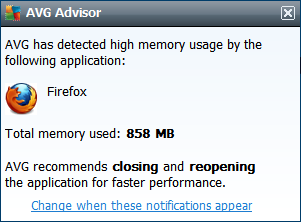 But as in most cases you can simply disable this feature along with the memory monitoring. To do this, open the AVG control panel from the tray icon. On the top bar, click on Tools and select Advanced settings.... In there, select Appearance from the left panel. Under System tray notifications, uncheck the Display AVG Advisor notification to turn those off and click Apply. You will now no longer be warned about your browser's memory usage.