Last Updated on April 18, 2021 by admin
One of the more useful Aero features of Windows 7 was that you could just hover your mouse over the bottom right corner where the Peek rectangle was positioned and all the windows would become fully transparent so you had a better overview of the desktop.
In the Windows 8 Consumer Preview the only default option to do this is to right-click the taskbar and to select Show the desktop - which is done with two clicks more than before.
To save those two clicks there is an easy way to re-enable Peek preview by right-clicking the space in the bottom right corner where the rectangle used to be and to activate Peek at desktop.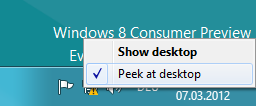 The space will then have the same functions as in Windows 7. If you move the mouse to the very corner however, it will still trigger the Windows 8 Charms menu.