Last Updated on April 18, 2021 by admin
When you install the latest java runtime enviroment, it gets installed beside your existing java installation. With every java update, more space is used on the harddisk. To remove old java versions, there is a tool named JavaRa which can be downloaded here:
https://sourceforge.net/projects/javara/files/javara/JavaRa/JavaRa.zip/download
Unpack the JavaRa.zip file and double click on the JavaRa.exe to start JavaRa. Select the language: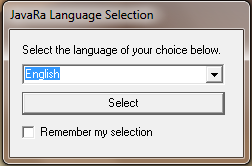 and click on "Remove older versions".