Last Updated on October 24, 2011 by CSch
There is a simple registry option in the Windows XP Registry that, if not altered, adds a delay time to the the XP boot process. However you can easily set this delay time to zero if you know where to look for it: Open the Windows Registry by entering regedit into a Run... prompt. The registry is parted in two frames, the one on the left containing a large list of keys and sub-keys, the one on the right displaying the keys' values. In the list of keys, browse the following:
HKEY_LOCAL_MACHINE\SYSTEM\CurrentControlSet\Control\ContentIndex
Left-click the ContentIndex-key to see its values, look for StartupDelay and double-click to modify it.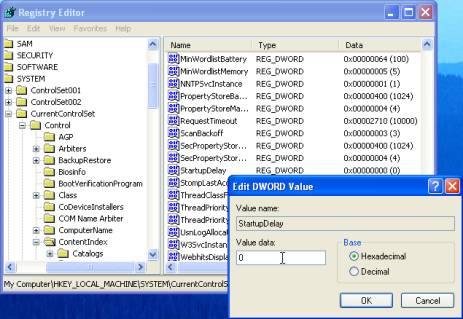 The default value is the hexadecimal number 75300, which is the decimal number 480000. Leave the hexadecimal button active and just change the value to 0 (you can also pick another value; to see which hexadecimal value you have to take for a decimal number, just switch to decimal, enter the value and switch back again).
After making this change, close the registry and reboot Windows to see how fast it has become.