Last Updated on April 18, 2021 by admin
Upon creating shortcuts on Windows, the icons used for them are always tagged with an additional small arrow icon to indicate that the thing you have there is only a pointer to another file, not the file itself.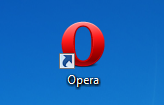 If, for esthetical or other reasons, you want remove those arrow icons, you can do that by choosing a transparent icon instead of the arrow to be displayed as indicator so that it won't be visible anymore. To do that you have to apply a simple registry tweak:
Open the Windows registry by entering regedit into a Run... prompt and browse the following key:
HKEY_LOCAL_MACHINE\SOFTWARE\Microsoft\Windows\CurrentVersion\Explorer\Shell Icons
If the Shell Icons key does not exist, create it by right-clicking the Explorer key. Next, select the created Icons key and right-click the right pane to create a new String value. Name it 29 and assign the value C:\Windows\System32\shell32.dll,50 to it.
Afterwards close the registry and open a command line by searching for cmd. Enter the following commands one after another (Please note: the first one will close your explorer which means that your windows and taskbar will disappear. The last one is the command to restart your computer, which you need to do to apply all changes):
taskkill /IM explorer.exe /F
cd /d %userprofile%\AppData\Local
del IconCache.db /a
shutdown /r
After rebooting, the icons will be replaced. To revert the changes, simply remove the registry value and execute the commands again.