Last Updated on April 18, 2021 by admin
On every Windows system able to create system restore points that undo any configuration changes made after their creation, there is also the possibility to create simple quick-link icons, consisting of a few line of code, that enable you to create restore points with a double-click. On Windows XP this is achieved with only two lines of code. Learn in this post, how it is done. In Windows Vista and 7 however, there are a few problems that stand in the way of our (automatic) one-click system restore point. First one is, that the script we need to run to create system restore points can only be run with administrative powers, so we need a way to get those. Second is the annoying User Account Control that asks as if we really want to run that script. This would not be such a great deal, but if you are the kind to create restoration points quite often or after a time schedule, the UAC may become a great pain.
To start with the administrative rights, there are more than one way to get those. The probably least complex one is to add the Run as administrator option to the menu appearing upon right-clicking the script: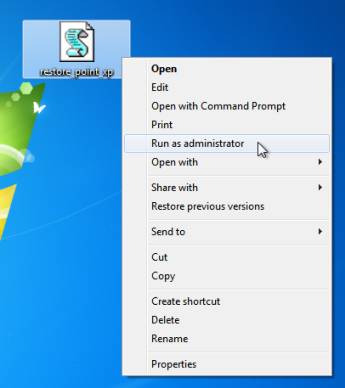 This is done by adding the appropriate keys to the Windows Registry. To open that, open Run... by entering run into the Windows search bar in the main menu and clicking on the program. Type in regedit into Run and the Windows Registry will open. It consists of two columns, one on the left, containing the key directories, and one on the left, showing the keys' values. Take on the left column and browse the HKEY_CLASSES_ROOT\VBSFile\Shell directory. Right-click it and select New > Key. Name it Runas and leave its values as they are (there is only one). Now right-click the Runas key and again select New > Key. Name the newly created key Command and leave the values as they are. Right-click the Command key and select Export.... Give it a name and save it somewhere you will find it. Go to the directive you saved it and open it with notepad. Erase all of its contents and paste this:
Windows Registry Editor Version 5.00
[HKEY_CLASSES_ROOT\VBSFile\Shell\Runas\Command]
@=hex(2):22,00,25,00,53,00,79,00,73,00,74,00,65,00,6d,00,52,00,6f,00,6f,00,74,\
00,25,00,5c,00,53,00,79,00,73,00,74,00,65,00,6d,00,33,00,32,00,5c,00,57,00,\
53,00,63,00,72,00,69,00,70,00,74,00,2e,00,65,00,78,00,65,00,22,00,20,00,22,\
00,25,00,31,00,22,00,20,00,25,00,2a,00,00,00
Save the file and double-click to merge it with the registry. The Open as administrator option should now be available to all Visual Basic Scripts (you can use the one from the linked XP tutorial with this option enabled).
However, this option neither is automatic nor does it circumvent the UAC. An option that enables creating a restoration point on double-click (but still, without disabling UAC) is to alter the script that you use for this. Open a new notepad (it has to be notepad) and paste the following code:
if wscript.arguments.count = 0 then
set objshell = createobject("shell.application")
objshell.shellexecute "wscript.exe", wScript.scriptfullname & " run", , "runas", vbnormalfocus
else
getobject("winmgmts:\\.\root\default:systemrestore").createrestorepoint "Automatic Restore Point (Win7 Script)", 0, 100
end if
Save the script as *.vbs and make sure to select All files from the dropdown menu before saving! With this, you have enabled administrative rights beforehand every time you run the script. Now there still is a slightly circumstantial method to also disable the UAC prompt. To achieve this, you need to have a desktop shortcut pointing to a scheduled task that runs the script with highest privileges grantable. To access scheduled tasks, browse Menu > Control Panel > System > Administrative Tools > Scheduled Tasks. Create a new one without any trigger, executing your script (be sure to remember the task's name, you will need it once more) and check the Run with highest privileges box on the first tab.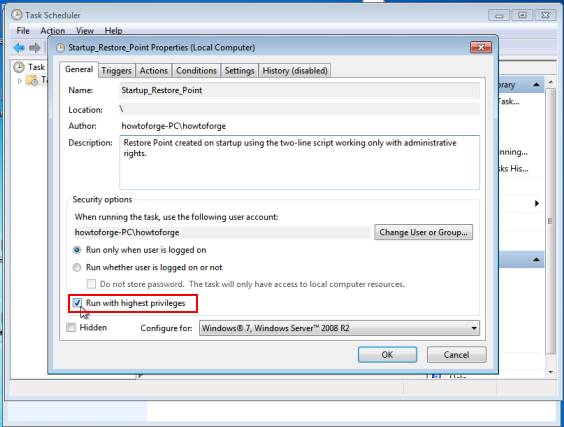 Now right-click your desktop and create a new shortcut. Let it point to following location (enter your own task-name in the last option):
C:\Windows\System32\schtasks.exe /run /tn "EnterYourTaskNameHere"
Upon opening, it should execute the script without asking for anything.