Last Updated on April 18, 2021 by admin
Whether you want to use Metro in all its glory is up to you of course but for those who want avoid this interface as thoroughly as possible, version 3.5.1 of ClassicShell brings a useful new feature: it can now get you around the first instance of the metro startscreen that you are presented with directly after login. Combined with its formidable start-button it makes Windows 8 look nearly like Windows 7, saving you the muddle of learning how to use a touch-interface on your desktop computer.
To install ClassicShell 3.5.1, download it from http://sourceforge.net/projects/classicshell/files/Version%203.5.1%20general%20release/ClassicShellSetup_3_5_1.exe/download and follow the installer.
The startscreen should be disabled by default - if you just want the start-button, you can turn on the start-screen again by opening the menu and selecting Settings > Classic Start Menu. Afterwards click on the All Settings radio button ond go to the General Behaviour tab.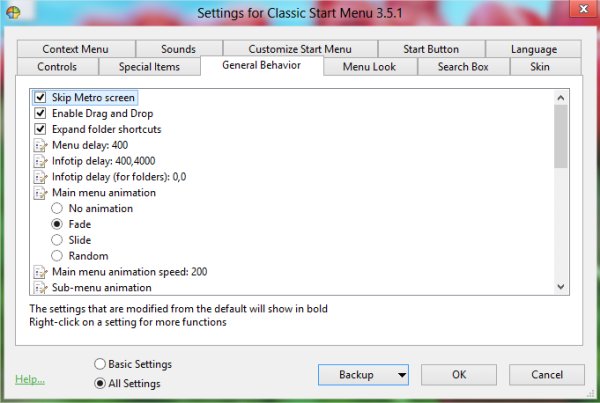 To enable Metro welcoming, deactivate the Skip Metro screen checkbox.