Last Updated on April 18, 2021 by admin
Slipstreaming is another word for integrating Service Packs or other Software into your Windows Installation disk. For Service Packs, Microsoft offers its own services for integration as the /integrate command or the tools of the Windows Automated Installation Kit in Windows 7, for software however that it rather hard to accomplish without third party software (I don't know of any way).
If you want additional software on your disk despite that, the easiest way is to use nLite which is a highly configurable tool to slipstream Service Packs, Software or Microsoft's updates and hotfixes, make your disk installation unattended or even remove parts of the installation.
You can download nLite here: http://www.nliteos.com/download.html
To add software, it needs to be in a specific format - you cannot just integrate the usual executable installers. However there is a website that offers lots of compressed software packages for download: http://www.winaddons.com/
Leave the packaged files you download there as they are and do not uncompress them. They need to be integrated as they come.
For slipstreaming, open nLite and perform the integration of Hotfixes, Add-ons and Update packs.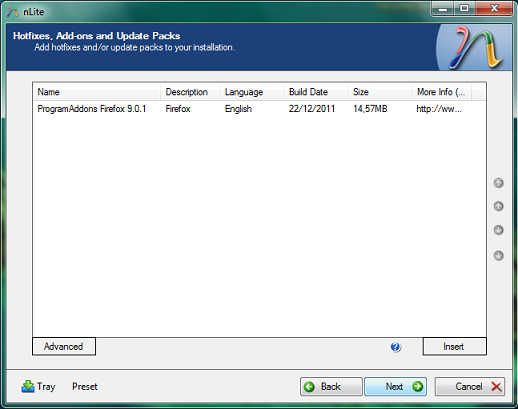 When the step is due, select the downloaded .cab archives (if it says that the package is broken, check its size - if it is only a few kilobytes, it has been corrupted during download. Try downloading it with another browser. Firefox worked fine for me while Opera always corrupted them).