Last Updated on March 14, 2013 by CSch
Surely you have witnessed this feature on a Linux system before: with a simple key combination the user is able to switch between multiple instances of the same desktop to reduce the clutter that you get when you open everything on just one desktop. That way, you can have your mail client open on one desktop, switch to another to surf the web and to another one to chat with your pals.
This feature is also accessible on any version of Windows and the only thing we need for that is a little tool that comes with Microsoft's SysInternals Suite which is a package downloadable directly from their website filled with handy executables, most of them used to troubleshoot problems on your computer.
You can download the SysInternals Suite here: http://technet.microsoft.com/en-US/sysinternals/bb842062.aspx
After you have acquired it, start the program called Desktops that came with it. There, you can define the key combination that switches between the different desktops - of course you can also do that manually with the help of the tray icon. You can also set it to launch on system start-up which you should do if you are planning on using it regularly.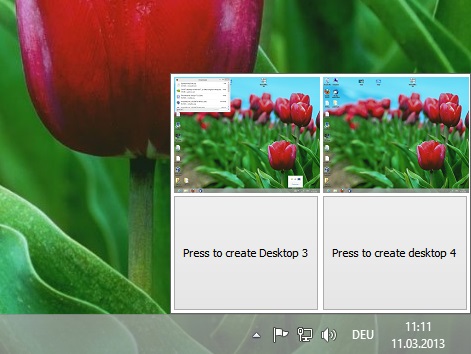 Desktop is also compatible with the new Windows 8 user interface. One desktop is unaffected by another one with the Windows 8 UI open.