Last Updated on October 14, 2011 by CSch
Sometimes it is necessary to just put a file that does not want as you want in the trash can. And sometimes doing this simple thing is not possible, because the file is being used by another program or is bound to other processes . If this is the case, the file is treated as if it was "locked" and changes cannot be done to it. If you are sure that the file needs to be deleted anyway, there is a tool called Unlocker that is able to cut off any file from its bonds so that it can be moved, renamed or even deleted. This can be pretty handy if your computer too stubborn to see its mistakes.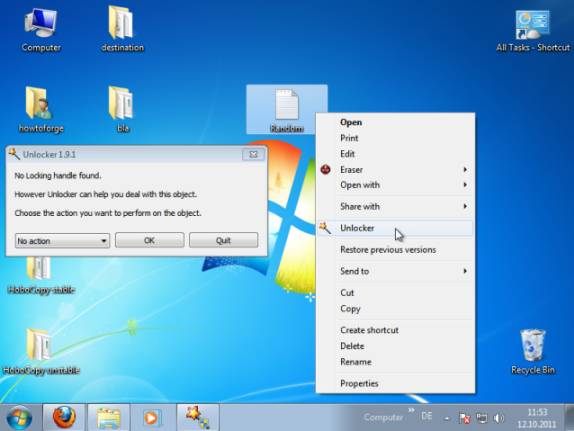 Unlocker is available for both 32 bit and 64 bit systems on the emptyloop homepage: http://www.emptyloop.com/unlocker/#download
To be able to use Unlocker with a rightclick, make sure that the Explorer extension is checked during the installation process.
To delete files afterwards, rightclick them and select Unlocker. The opening window will tell you if the selected file is locked or not and gives you the option to move, rename or delete it instantly.