Last Updated on December 10, 2019 by admin
In this Windows 10 guide, I'll walk you through the steps to modify the registry to hide the network button from lock screen and prevent other users from changing the network settings when your computer is locked. Modifying the registry is a risky task which can leave your computer in an undesired state so take a full backup or create a check point/snap shot if your Windows 10 is a virtual machine.

Hiding the Network Button From Lock Screen in Windows 10
Step 1: Use the Windows key + R keyboard shortcut to open the Run window
Step 2: Type regedit and click OK to open the registry.
Step 3: Go to the following path:
HKEY_LOCAL_MACHINE\SOFTWARE\Policies\Microsoft\Windows\System
Step 4: Select the System folder and right-click on the right side. Select New and click DWORD (32-bit) Value
Step 5: Provide the name DontDisplayNetworkSelectionUI to this new DWORD and press Enter
Step 6: Double click this newly created DWORD and change its value from 0 to 1. Click OK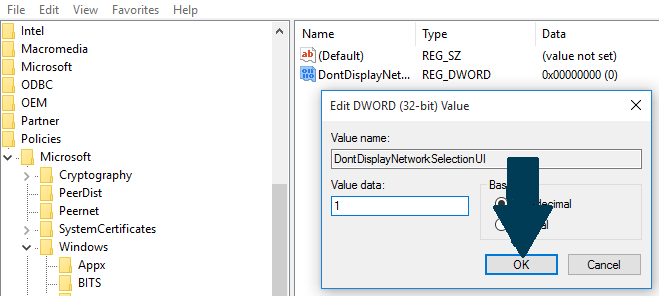 Step 7: Close the registry and restart your computer for changes to take effect