Last Updated on April 18, 2021 by admin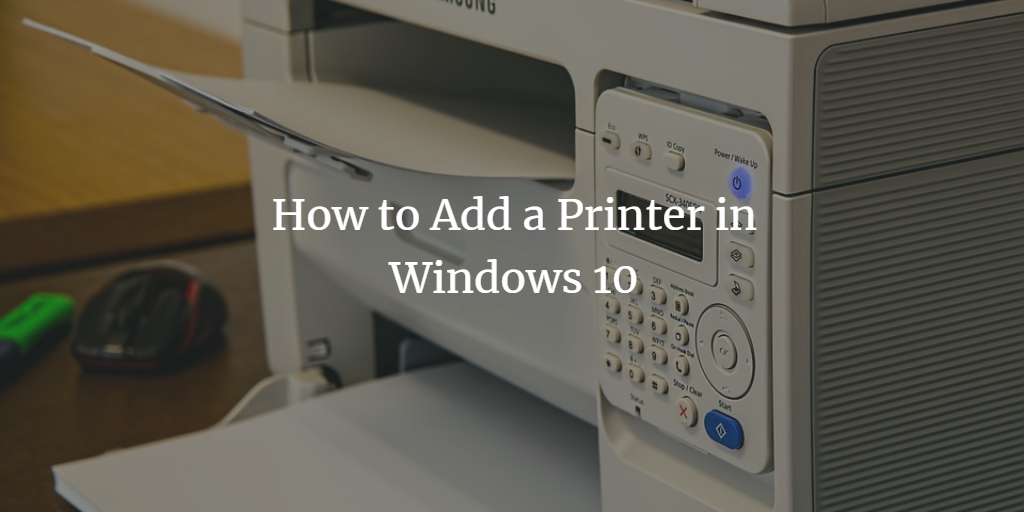 So you've got to print some documents, you've got Windows 10 on your PC and can see a printer around you. But here's the situation: You don't know how to add the printer to your PC in order to start printing. Well, you've landed at just the right spot because this guide will tell you how to connect your Windows 10 PC to different kinds of printers. If it's a local printer, you can connect it to your PC using a USB cable. You can also connect to wireless printers. So let's get you started.
How to add a Local Printer
Adding a local printer is the simplest process. Follow the steps below:
Start off by connecting the printer to your computer manually with the USB cable and turn on the printer and computer
From your Desktop, open Settings from the Start menu. The Settings icon will have a gear next to it
From the Setting window, select and click the Devices option
Select Printers and scanners from the left side pane and from the right side click on the option Add printer or scanner which will be next to a + icon
You'll be shown a list of printers. Select the printer you've connected your PC to and keep following the simple instructions to finish the process. In case the printer name doesn't pop-up, click on "The printer I want wasn't listed" and let Windows 10 troubleshoot the problem for you by finding the printer or installing relevant drivers. You may have to download the printer driver and install it manually if this doesn't work either
How to add a Wireless Printer
Adding wireless printers varies from manufacturer to manufacturer. Follow the steps below as it should work for most wireless printers:
Switch on your Wireless Printer and computer
From your printer's display panel enter the Wireless LAN settings from the Setup option
From the list of networks, select your own Wi-Fi network SSID. If you need help finding your Wi-Fi network SSID, simply hover over your Wi-Fi icon in the Task Bar from your PC and you'll be shown the SSID.
Enter the password for your Wi-Fi and that's it. Your printer will automatically pop-up in the Printers and scanners option, which you can navigate to using the Settings app and Devices option
In some cases, you'll have to connect your printer to the computer via USB temporarily in order to install the software
Wrapping up the Printing Business
So you've learned how to add printers to your Windows 10 PC. Not only local printers, you're now also equipped to add Wireless printers on your PC too. Once you've set up your printer device, you can print test pages to ensure everything is working fine. Wireless printers are generally more easy to use as you can avoid the hassle of physically connecting your computer to the printer. But remember, both the wireless printer and PC need to be in Wi-Fi range if you want to print a document.