Last Updated on May 16, 2018 by admin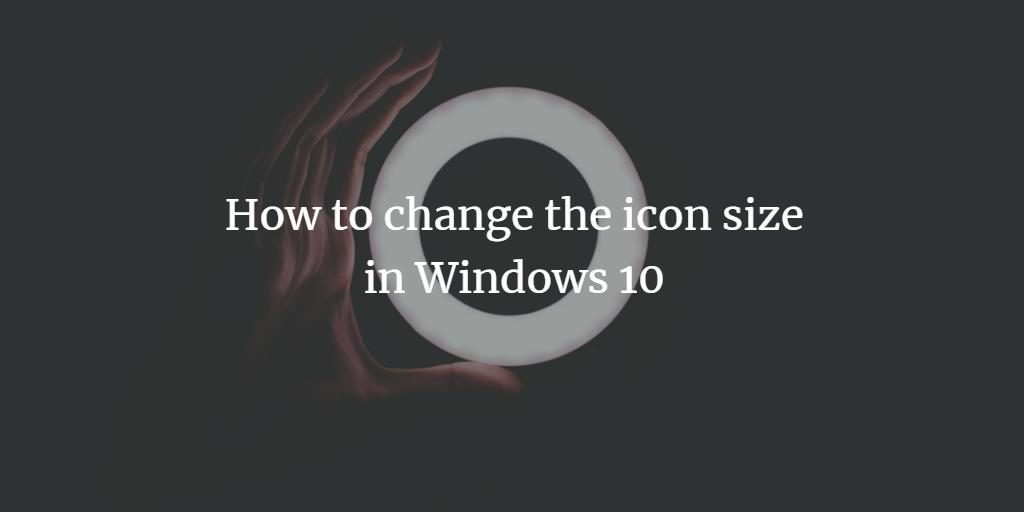 Are those teeny tiny icons on your PC making your eyes tired and squinty? Or are they so big they literally seem to be coming out of your screen? Icons have made our lives super easy, especially when we want to launch or open specific apps, files or folder. With the help of different icons, we can easily distinguish between different options.
We all have our own choice when it comes to how big or small the icons should look on our screen. Windows 10, by default, try to maximize and enhance user and Windows experience by adapting icon sizes to your screen resolution. However, as stated earlier, you might want the icon size to change and come out how you need them to. Both situations, of course, have their pros and cons. Having large icons definitely increases readability and visibility, however not many icons will then fit on your screen. On the contrary, using smaller icons would allow more icons to fit on the screen but it will put a lot of strain on your eyes owing to poor readability.
Here are a few ways you can go about changing icon size in Windows 10.
Change Desktop icon size in Windows 10
Follow the steps to increase or decrease icon size when you're on your desktop:
Step 1:  While on your Desktop, right-click on the empty space
Step 2:  From the right-click menu click on View
Step 3: From the sub-menu, choose from Large, Small or Medium icons
We suggest you use Medium sized icons for fairly good readability.
Change icon size from the file view in Windows 10
When you're browsing around your files, here's how you can change file icon size:
Step 1: Open the File explorer window
Step 2: Click on the View tab
Step 3: Choose between Small, Medium, Large or Extra Large icons from the presented options
Change the size of all Windows 10 icons using Display Settings
Other than icons, you can even change the font size with this method. Here's how:
Step 1:  While on your Desktop, right-click on the empty space
Step 2:  From the right-click menu click on Display Settings
Step 3: From the Display Settings window, click on the drop-down list named Change the size of text, apps, and other items
Step 3: You can choose the size in the form of % size options
Step 4: Click on Apply to save your changes
The changes in the icon and font size will show up once you log-in again
Wrapping it Up
That was pretty easy, wasn't it? We can all agree on one thing, icons are the easiest and fastest way to launch something on our PCs and devices. Their size actually impacts our level of productivity and throughput. Changing icon size in Windows 10 is not complicated at all. There are more than 1 ways to do it and each method is easy as the rest.