Last Updated on June 5, 2019 by admin
Ever you experience while using the computer that when you try to delete, move or rename a file or folder, it gives an error stating that file is open in another program. It is known as a locked file. Windows do not allow you to modify a locked file.
To modify a locked file for the purpose of deleting, moving or renaming, you need to unlock that file. To unlock a file, you must close the program and then try to perform the above actions.
But in some cases, it is not rather clear which specific program has locked the file or maybe in some case, a background process running in the Windows has locked that file. Another reason for a file to get locked by OS is that it has opened by another user on a network. So in that case also it will not allow you to make any changes.
To delete, move or rename locked files, try the following methods:
Close the program
First, try to identify the program that might have locked the file and close the program. Otherwise, it will not allow deleting, moving, or renaming it. Once you close the program, it will get unlocked.
Restart a computer
Restarting a computer will shut down any program that might have locked the file. You should give it a try.
Safe mode
If the above two methods don't work, try to boot your PC in safe mode. Safe mode boot up the OS in a minimal state. This method can be helpful if any startup program has locked the file.
Using tools
Last option you can try to unlock the files is through using different file unlocking tools. One of them is Process Explorer from Microsoft.
In this article, I will show you how to unlock a file using Microsoft Process Explorer.
Using Microsoft Process Explorer to unlock files
Microsoft Process Explorer is like an advanced task manager and a system monitor application use for dealing with troubleshooting. It will help you to figure out which process is actually locking your file.
To get started with, download Microsoft Process Explorer. You don't need to install it. Just double click the downloaded application to launch the process explorer.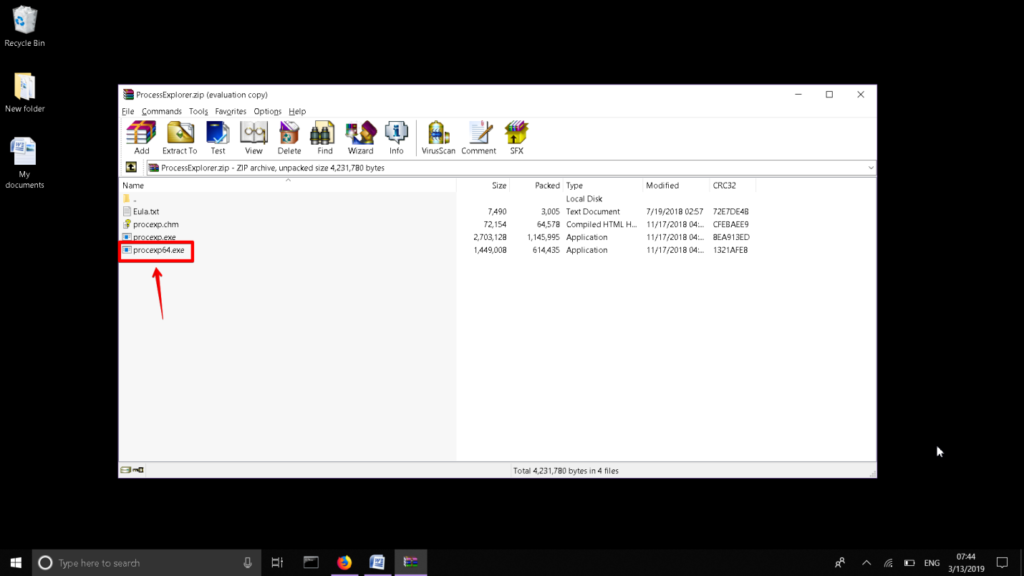 In the process explorer window, select the file tab from the top menu,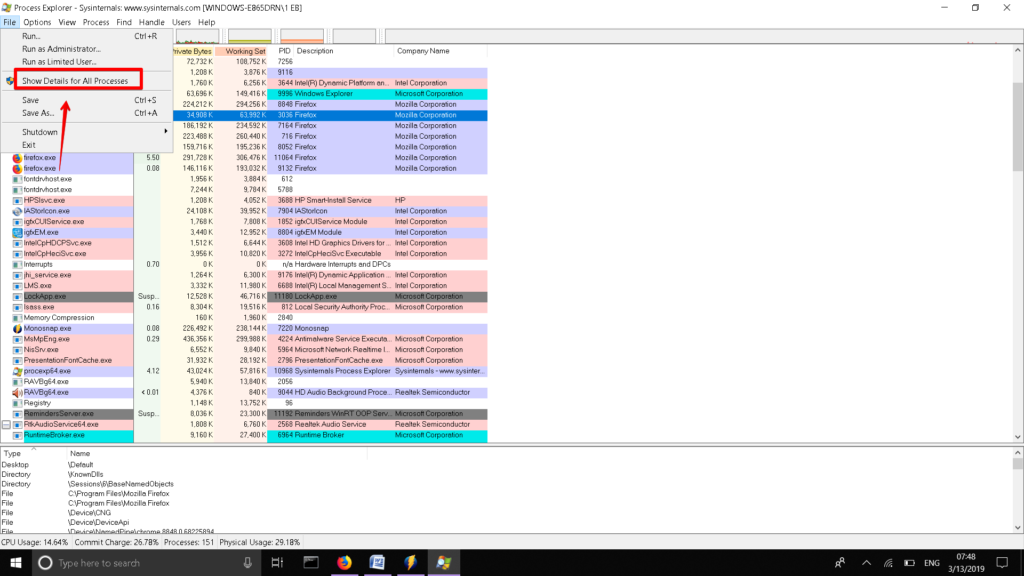 Then click on find and then select Find to handle or DLL,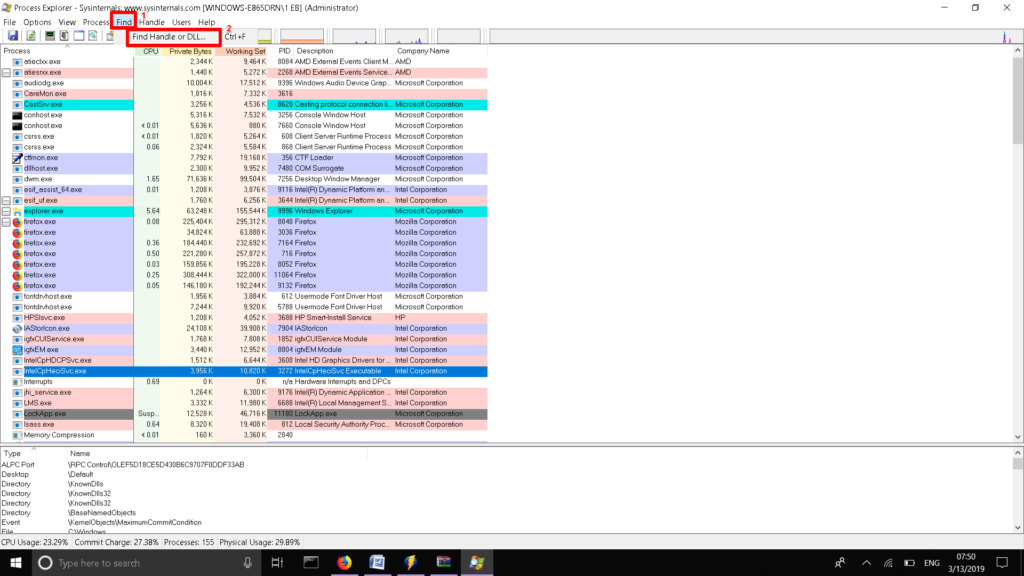 In the search bar, type the file name and click search. It will show you the process that is locking the file.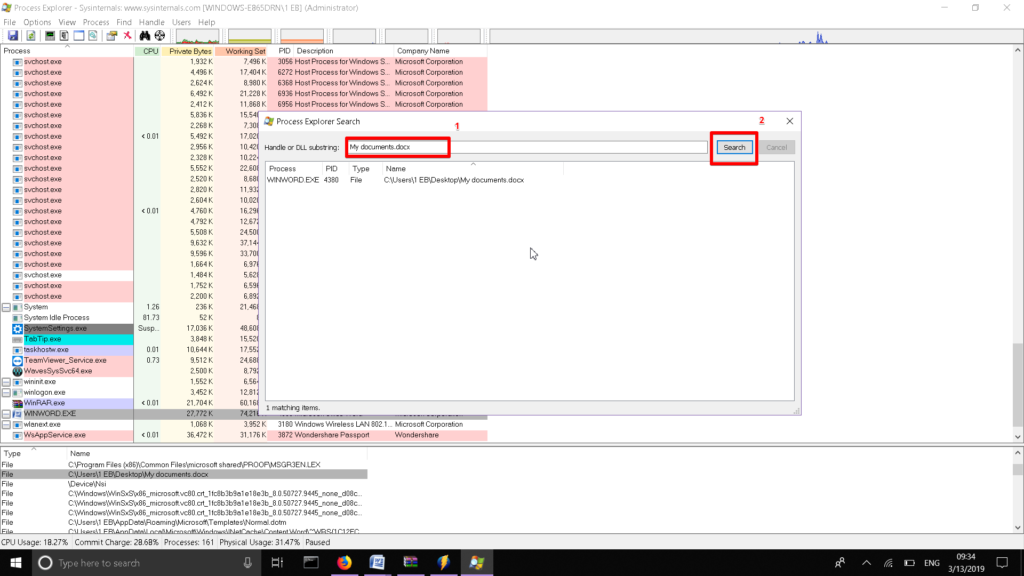 Select that process from the lower pane of process explorer. Right click it then click close handle.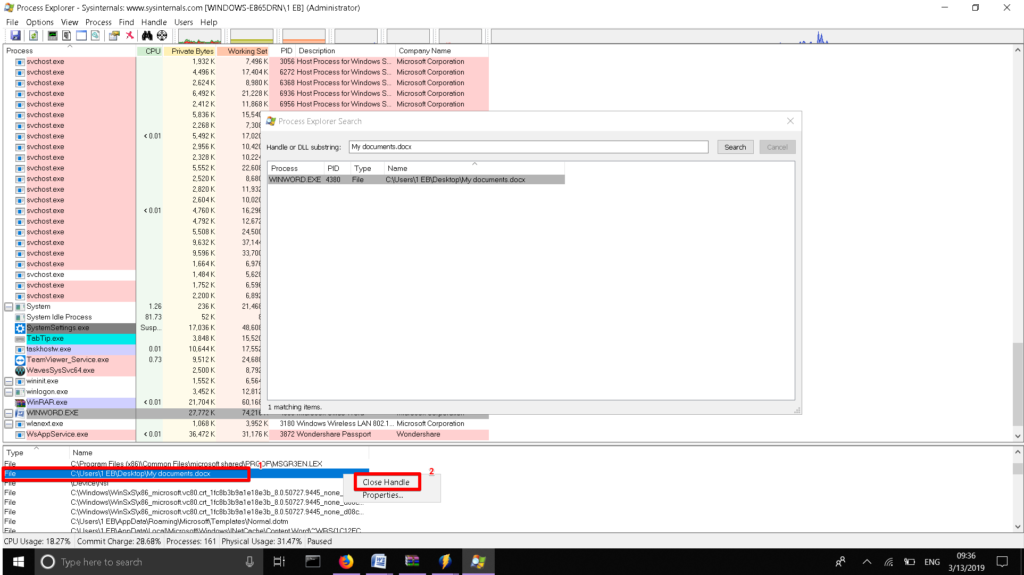 Now you can delete, rename, or move the file as usual.
Most of the executable files that run a program are usually locked by the system. If you are not sure what they are meant for, don't try to unlock and delete them because deleting these files could cause disruption in your operating system.