Last Updated on April 17, 2021 by admin
Duplicate files are really annoying you often encounter when you search for a specific file folder in Microsoft windows explorer. They not only took a drive space but also clutter up your folders and drives. It causes difficulty in finding the right version of the file while also ends up with making drive slow.
Usually, the operating system creates multiple copies for the sake of system protection in case of a malware attack. Sometimes the user is involved too in the creation of duplicate files for naming the files as previously existing ones. Sometimes because of mistakenly downloading multiple copies of the same file, and for the purpose of backup. And finding and removing that duplicate files is not only time taking but also it could be annoying sometimes. But there are certain tools which can help to find and remove duplicate files from your system.
Find and remove duplicate files
You can use a free tool CCleaner to perform cleaning of duplicate files from your system. For this, download and install CCleaner on your Windows 10 system. Make sure you have downloaded the correct version, 32bit or 64 bit as per your operating system.
Now open CCleaner. Then go to Tools in the left sidebar as highlighted below: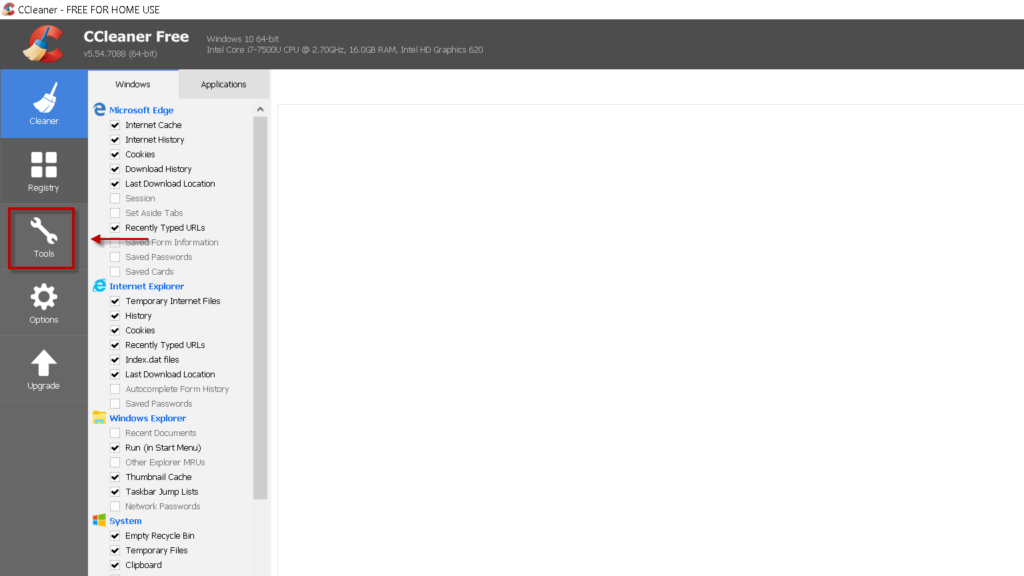 In the Submenu that will appear, go to Duplicate Finder.
That will present with a list of options, allowing you to match files by name, size, and the files with the modified date and content. You can also go with default options.
Name: Allows CCleaner to search files that have the same name in the specified file.
Size: Allows CCleaner to search files that have the same size
Modified date: Allows CCleaner to find the files that have the same modified dates.
Content: Allows CCleaner to find the files that have both the same content and size.
Also, there is an option for you to ignore some files by using the checkboxes.
Below there is a tab named Include and Exclude in which you can specify the drives and folders which you want to include or exclude by using the include or exclude tab simultaneously.
For instance, If you want to include a specific folder or a specific drive, click Add.
A dialog box will appear. Here there are three options:
Include: Pick a drive or folder path which you to search from by clicking the browse button.
File types: Select file type, whether to select all file types or add a specific file extension
Options: This includes the options to include only files in your search or both files and sub-folders.
After selecting the above options, press OK.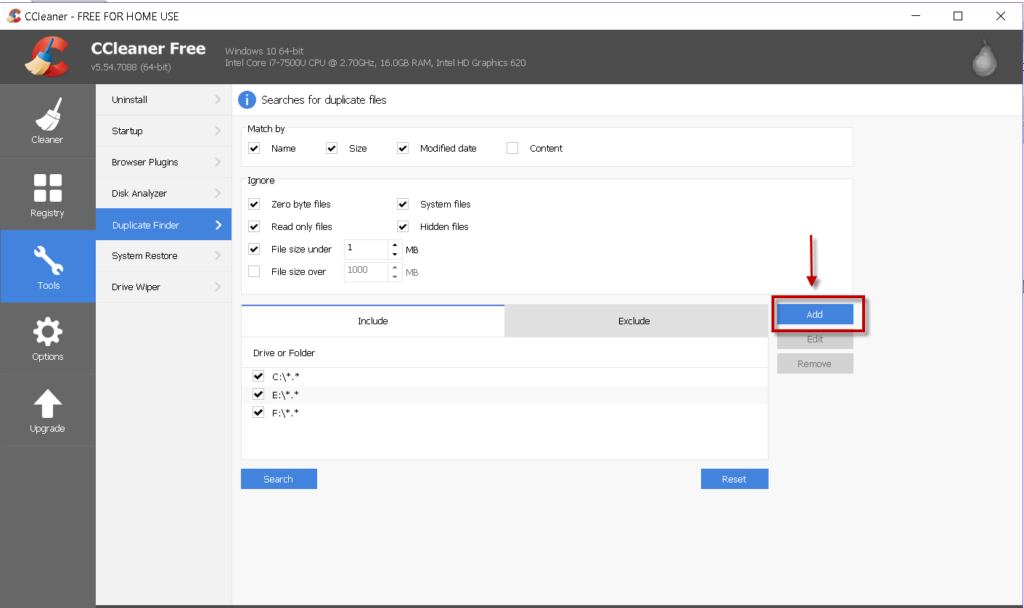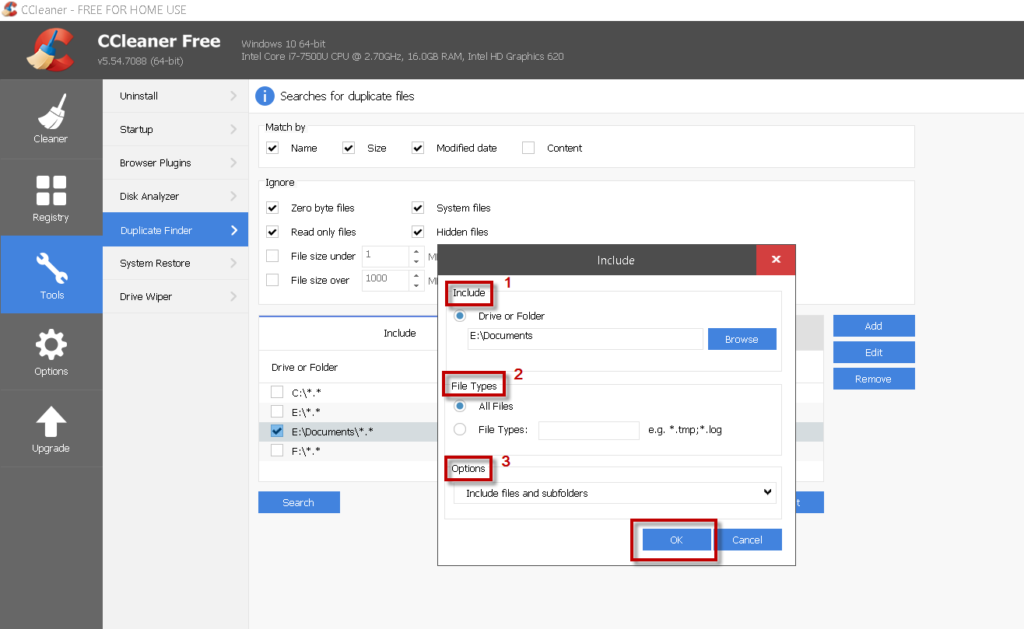 Similarly, if you want to exclude any file or folder, go to Exclude tab and exclude the drive or folder, select the file type and then press OK.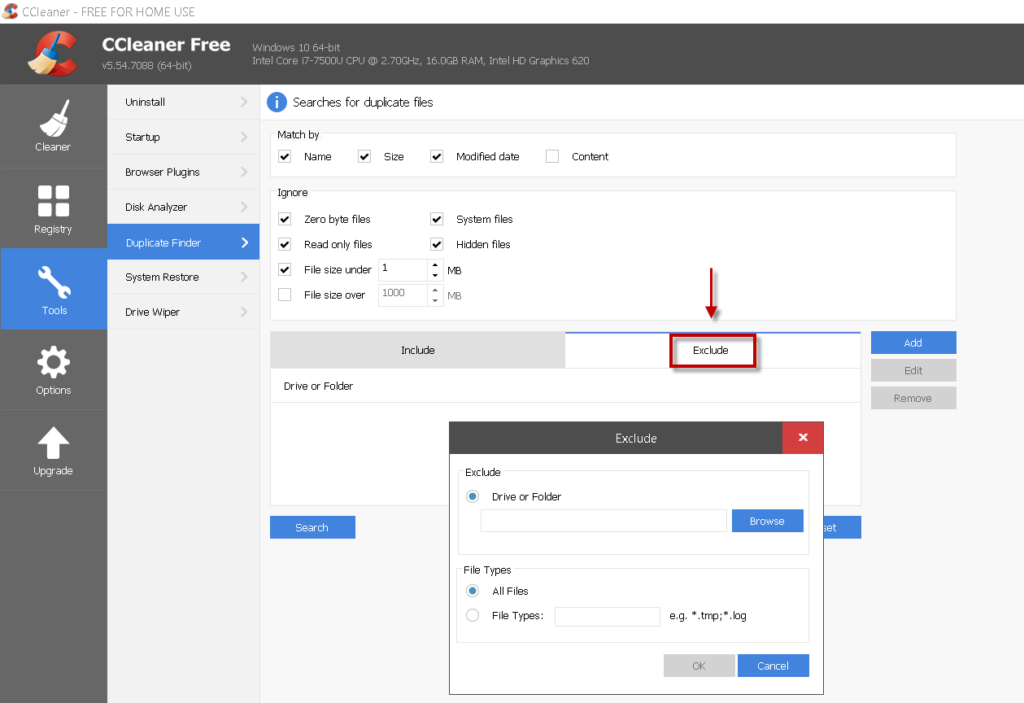 After finishing this, configure other settings as per your preferences, and then click on the search button.
Search results will appear showing the original file and location with its duplicate copy along with its location. You can easily delete the duplicate files without fearing of deleting the original file because they are grayed out.
Select the files you want to delete and then click the button below: Delete Selected.
Duplicate files need regularly be removed on a regular period to red rid of duplicate files that take the drive space for no particular reason and also results in poor performance of your system.