Last Updated on April 17, 2021 by admin
Windows 10 allows you to manage various aspects of wireless connection settings through the Control panel and Windows Settings application. However, you may need some advanced details of the wireless usage, network security keys of different wireless profiles, connectivity status, etc. You may also want a detailed report of the wireless network connection settings, history, usage, and session duration. It can help you to diagnose various Wi-Fi connection problems and let you view all the information and configurations settings that you cannot view using Control panel and Windows Settings app.
For each wireless access point, the Windows operating system creates a profile for it and stores in the computer. You can view all these profiles through Cmd. You can also run various commands to configure or get individual information like, wireless driver, wireless interfaces, to view, delete, import or export wireless profiles.
However, instead of individual information, you can also get a detailed report. In this article I will show you how you can generate a detailed WLAN report. To get started with this, open an elevated command prompt.
Type cmd in the search bar your windows 10 computer, and press Ctrl+Shift+Enter. It will launch the Cmd with administrator privileges.
Enter the following command in Cmd:
netsh wlan show wlanreport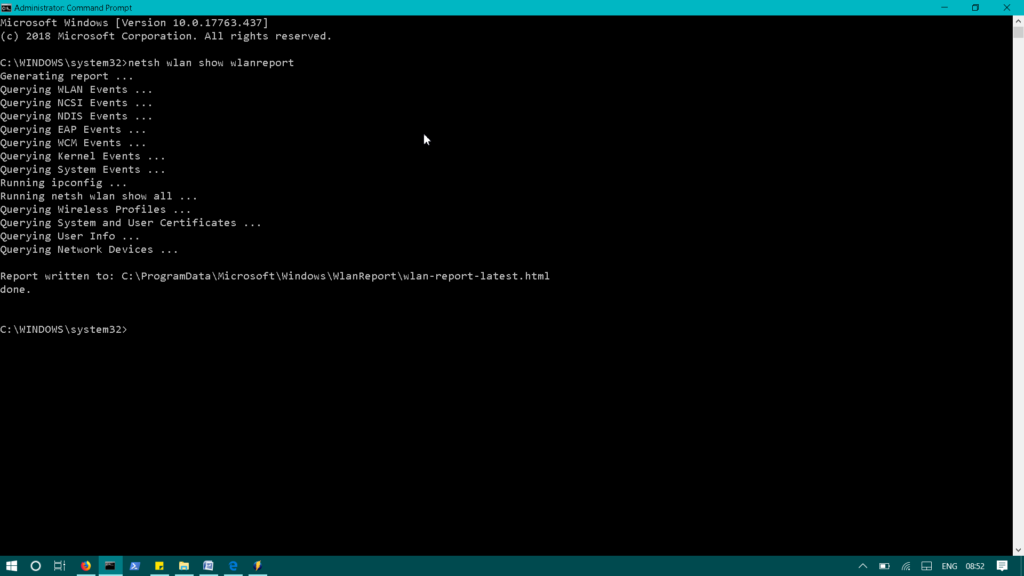 It will generate the detailed report in HTML format in the following location:
%ProgramData%\Microsoft\Windows\WlanReport\wlan-report-latest.html
Navigate to the above path and open the file. Alternatively, you can copy-paste the above path in the file explorer to view the WLAN report.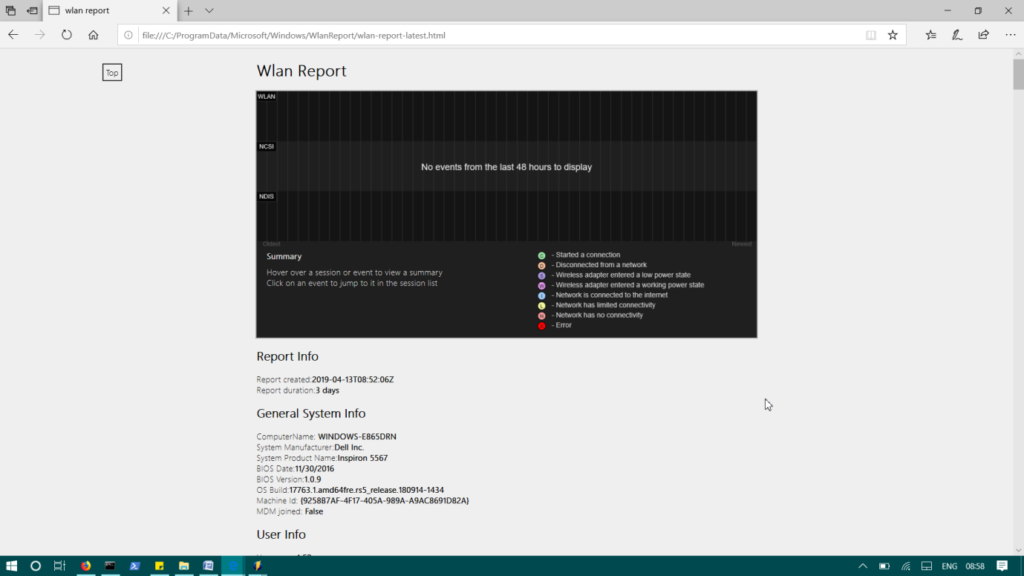 Above WLAN report shows a graph with the connectivity status of the last three days. It contains Wi-Fi summary chart, general system information, user information, network adapter, success/failure sessions, etc.
That's how you can get a detailed report on your wireless connection. Anytime, you got wireless connectivity issues, you can run the command and get a detailed view of the last three days that will help you to diagnose the connectivity issues.