Last Updated on June 22, 2018 by admin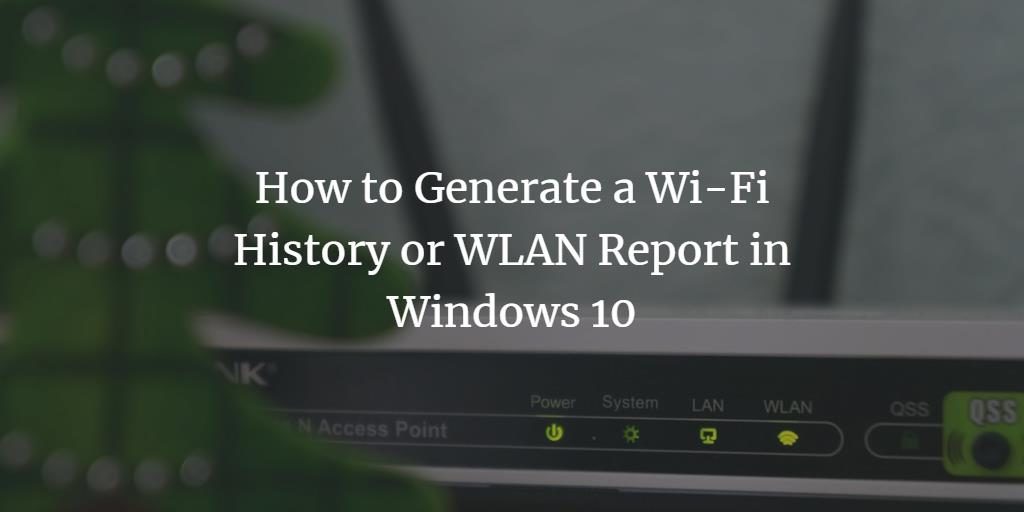 Windows 10 is one of the best products by Microsoft. It has a myriad of amazing features which remain unexplored as the conventional user has no idea about them or how to access them. One such remarkable feature is its ability to generate Wi-Fi history or WLAN report. This built-in functionality allows the users to easily access their Wi-Fi connections. The history report is created using information such as the network name, session duration, and timing, etc. With this incredible report generating feature, you can monitor your Wi-Fi's internet usage, devices connected to it, the location of access by connected devices and the number of times the Wi-Fi connection was used. In this tutorial, we will be covering all the steps that are required to generate this report.
Features of the Wi-Fi History or WLAN Report
This report contains a couple of sections that include information about topics such as system, network adapters, users and outputs of tools such as netsh and ipconfig, etc. The main three sections are:
The System Section:

This contains your computer's general information.

The User Section:

This includes information such as the username and domain name.

The Network Adapters Section:

This has the list of adapters present on your computer whether physical or virtual.
Wi-Fi History or WLAN Report in Windows 10
In order to generate Window 10's Wi-Fi or WLAN history report, the command line tool is required. This tool has the ability to save the report in HTML form on your computer. To get the history of connection for the last three days, you will need a couple of things such as the name of network, connectivity timing of the session, session duration and record of errors (if any). This will provide you with a Wi-Fi chart that can help you in analyzing your network activity. So without any further delay, let us begin:
Step 1: Open the Command Prompt: Go to the Start Menu and type 'cmd'. You will see Command Prompt in the list, right-click on it and select 'Run as Administrator'. A 'User Access Control' window will appear asking for access. Click on 'Yes' and a window with 'Administrator: Command Prompt' label will open.
Step 2: Type the following command:
netsh wlan show wlanreport
Step 3: Press the 'Enter' key. The HTML form of the history report will be saved automatically in the WlanReport folder of your Windows 10 with the name 'wlan-report-latest.html'. You can view this report in any browser such as Edge, Safari, Chrome, and Firefox.
Step 4: To view the report, open the File Explorer and follow the path given below:
C Drive -> ProgramData -> Microsoft-> Windows -> WlanReport -> wlan-report-latest.html
[Note: You cannot access ProgramData folder easily as it is a hidden folder. In order to access it, click on the 'View' tab and tick mark 'Hidden Items'. ]
Step 5: Click on the report and view it on any web browser.
With these easy steps, you will be able to easily monitor and analyze your Wi-Fi usage with the help of an interactive report that provides additional information on cursor's hover.