Last Updated on April 17, 2021 by admin
Before the evolution of remote software, helping others for troubleshooting was a very time taking task. You had to talk on the phone to instruct or guide others or to manually attend them to solve the issue.
Among many other remote support tools, TeamViewer is the best widely used tool. You can use it to access remote computers from any location. It's a useful tool that can remotely access any computer running Windows, Mac, or Linux to view and transfer files, install programs and troubleshoot problems.
It offers a lot of features which you can do on a remote computer including the following:
Remotely manage and transfer files
Access via LAN, WAN, or the internet
Connect to any OS
Screen sharing
Mobile app
Let's say you have to help someone with team viewer in troubleshooting a problem. You have to install team viewer on both host and guest computers.
As I have shown you above many features of TeamViewer, but in this will show you the basic setup of TeamViewer that you will need to remotely connect and help any other remote computer user.
Starting a TeamViewer session
To start, download and install TeamViewer on both computers. Team viewer supports all versions of OS. I will demonstrate its functions on Windows 10 computer.
After the installation is complete, launch TeamViewer. Type TeamViewer in the search bar of your computer. Then select it from the search results that appear. That will launch TeamViewer window. Ask the remote person to also start the TeamViewer so that you can access his computer.
Remote connection
In the TeamViewer window, click the Remote Control tab.
Here are two options Allow Remote Control and Control Remote Computer. The option Allow Remote Control allow other users to connect with you and take control of your computer. While Control Remote Computer option allows you to connect to another's computer. To control a remote computer, you have to enter its TeamViewer ID. It's a number unique to each computer running a TeamViewer application.
To connect to a remote computer, enter its TeamViewer ID in Control Remote Computer combo box. Then click the Remote Control option button. And then click Connect.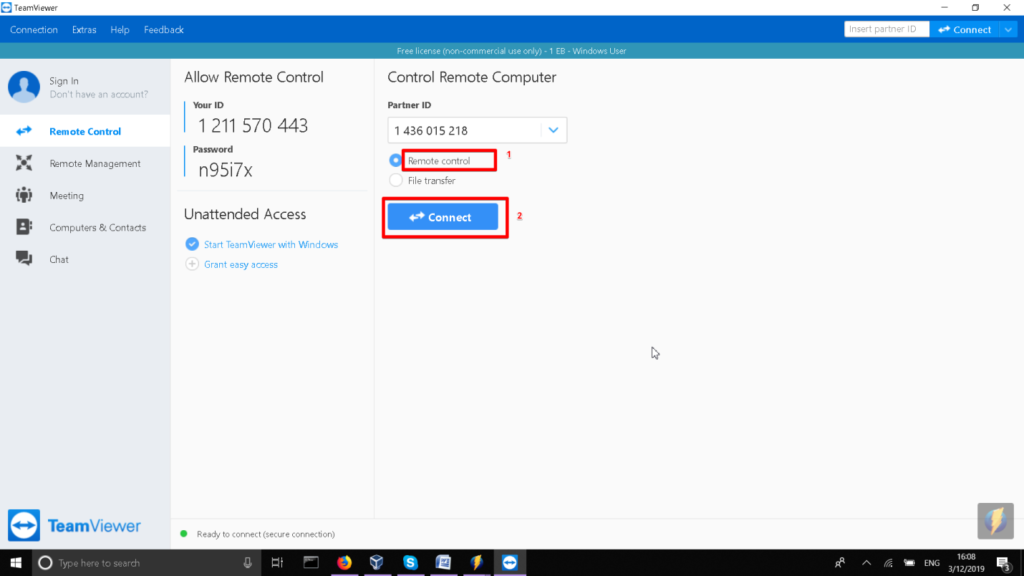 TeamViewer Authentication dialog box will appear. Enter the password for the remote computer and click Log On.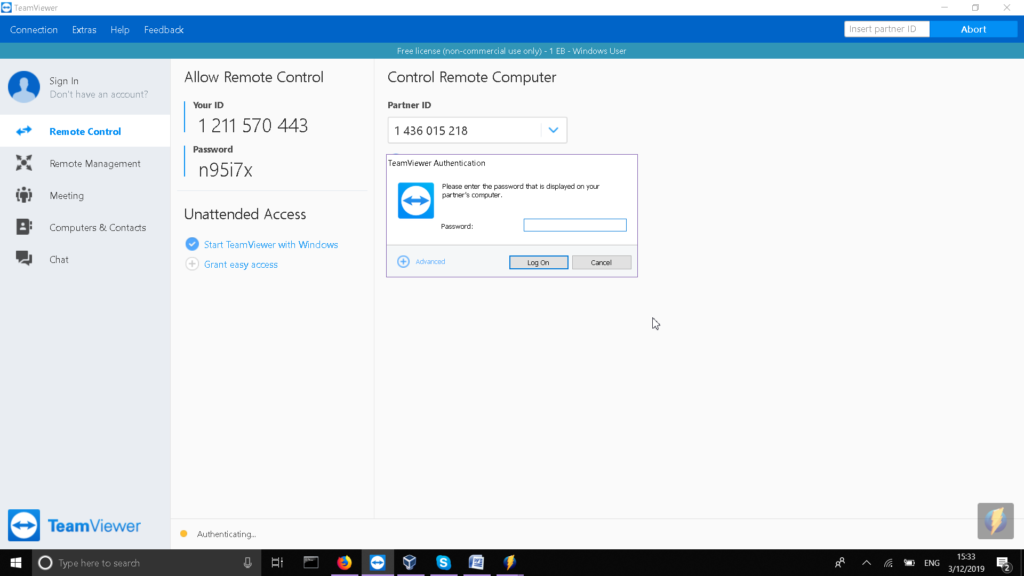 When you see the partner's computer, it means you are connected to browse and control the computer.
On top, you will see a menu bar with different tabs like Actions, view, communicate, files & extras. You can use them to perform various tasks.
Start
It allows you to perform actions associated with the start menu of windows button.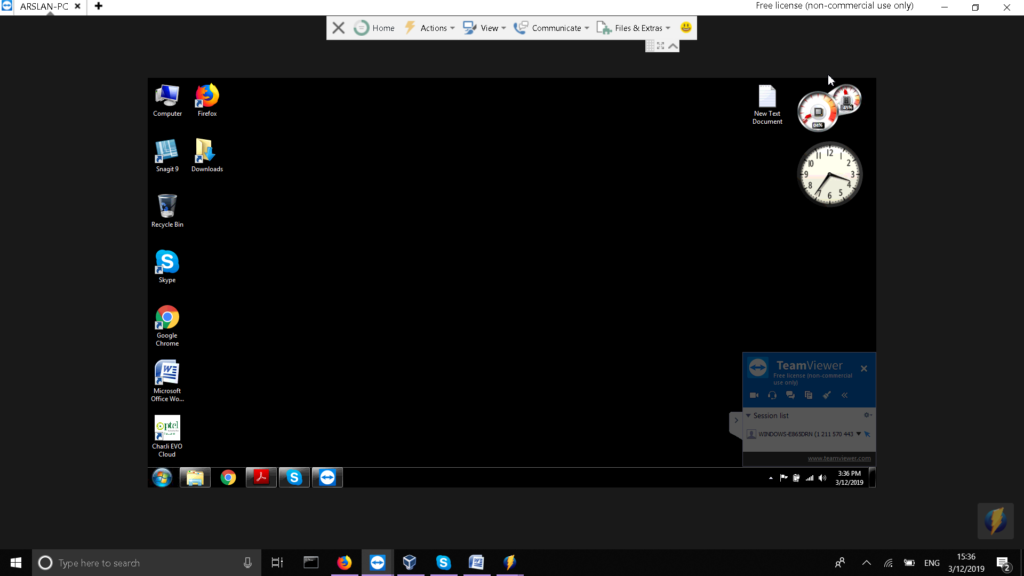 Actions
The Action tab allows you to end the session, leave a note, lock, reboot, or send Ctrl+Alt+Del.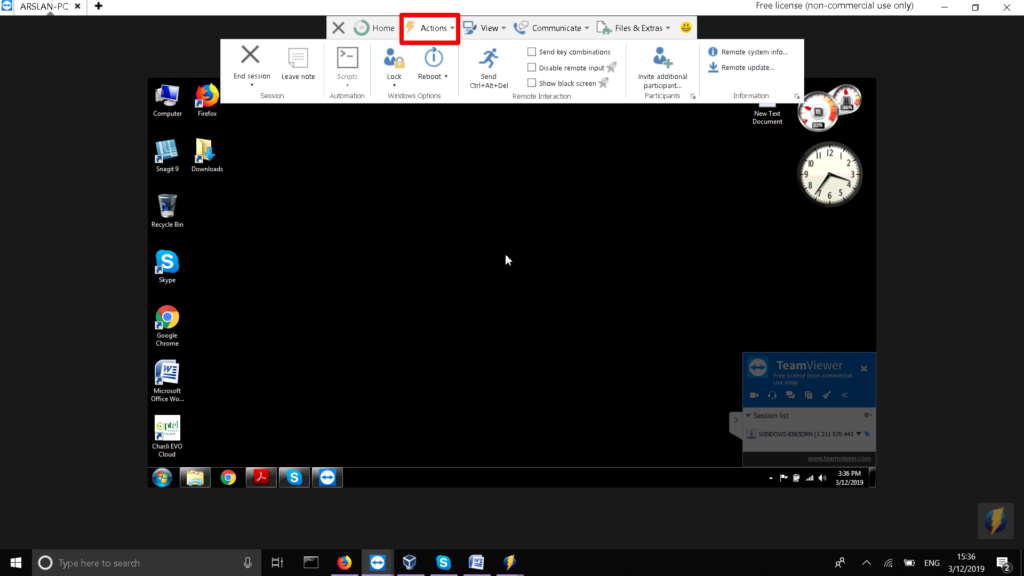 View
The view tab allows you to modify size and resolution of the window.
Communicate
Communicate allows you to chat, call or a video.
Files & Extras
Allows you to take a print, screenshot, file transferring and desktop recording.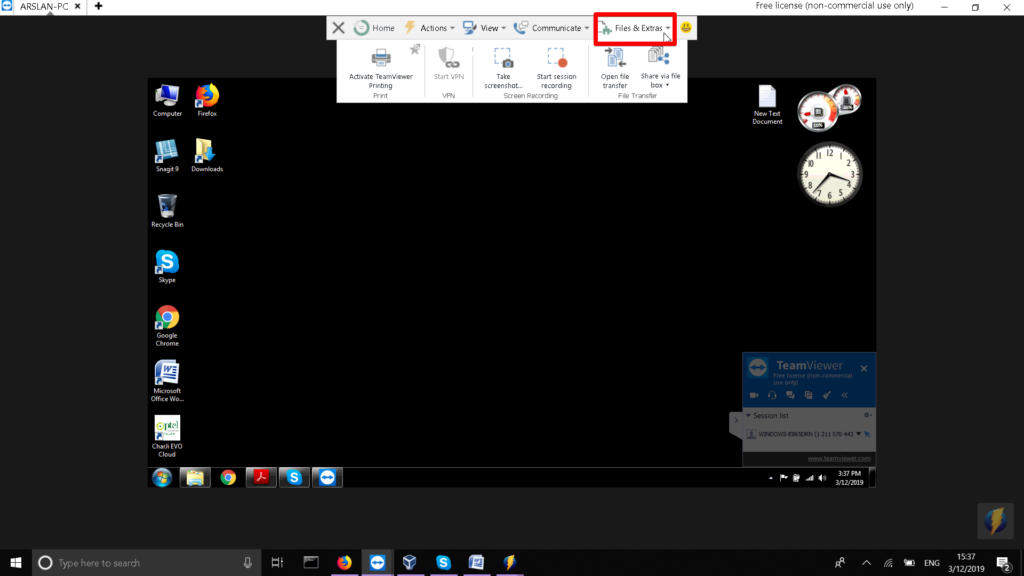 Remote file transfer
Transferring a file allows you to send a file to and from your partner's computer. There are two methods to share files with a remote computer.
Using the remote control tab
On the Remote Control tab in TeamViewer window, enter the partner's TeamViewer ID and select the option File Transfer. Then click connect.
It will launch the File transfer window. Here you can select the files and transfer to and from the remote computer.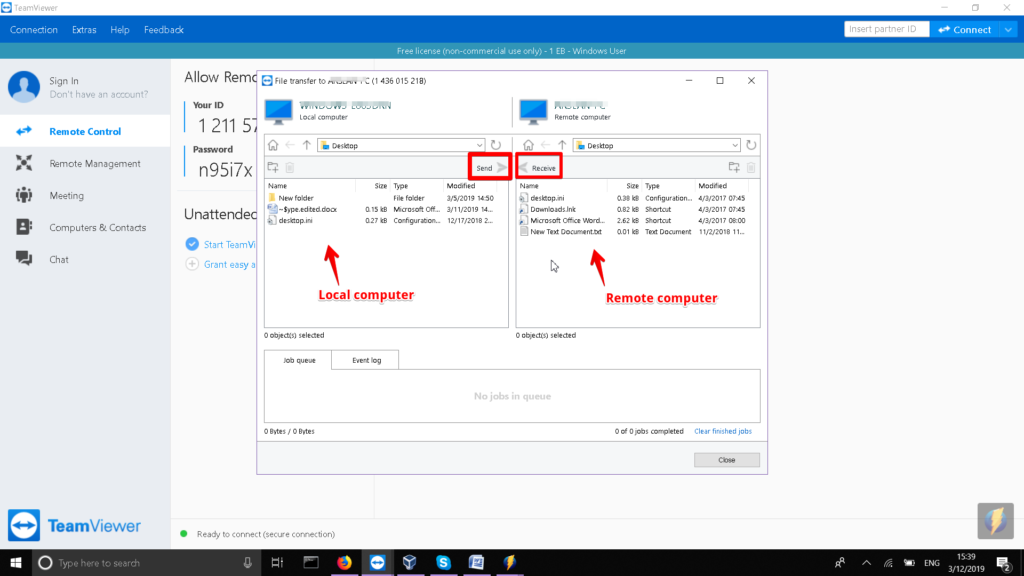 During a live Remote control session
During a live remote control session, click on File & extras.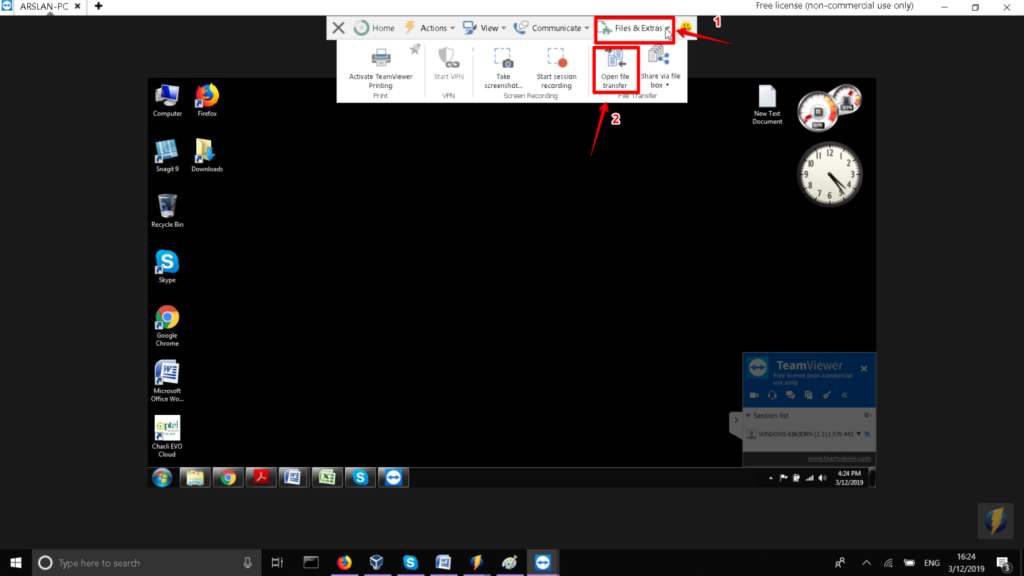 Then click open file transfer. The left column will show your computer's files while the right column shows remote computer's files.
To transmit a file to a remote computer, select the file from your PC and then click Send icon.
To receive a file from a remote computer, select the file from the remote PC and click Receive icon.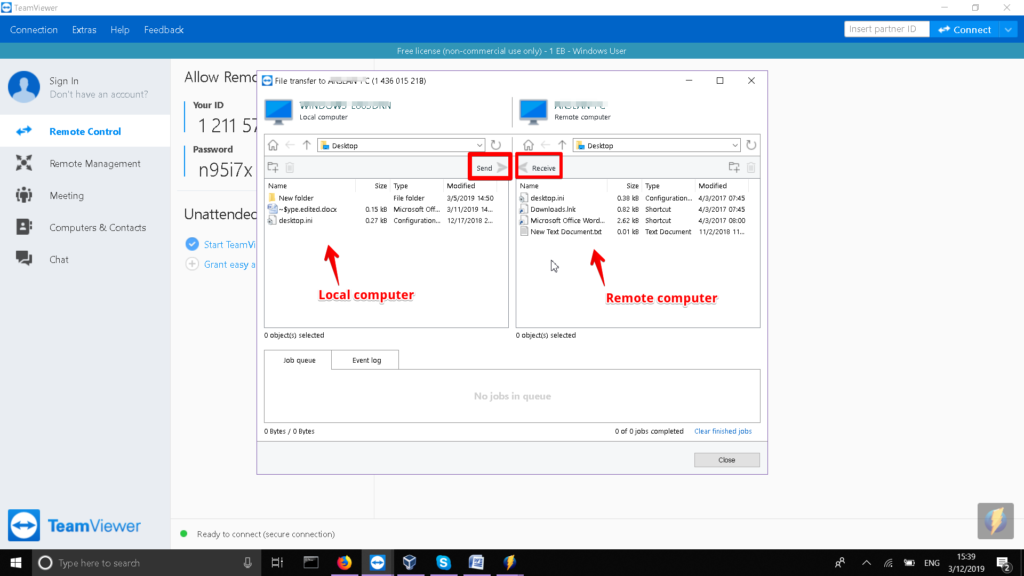 This was the basic setup to remotely accessing a computer and sharing files for helping with a task or troubleshooting. There are a lot more functions you can perform with TeamViewer.