Last Updated on April 18, 2021 by admin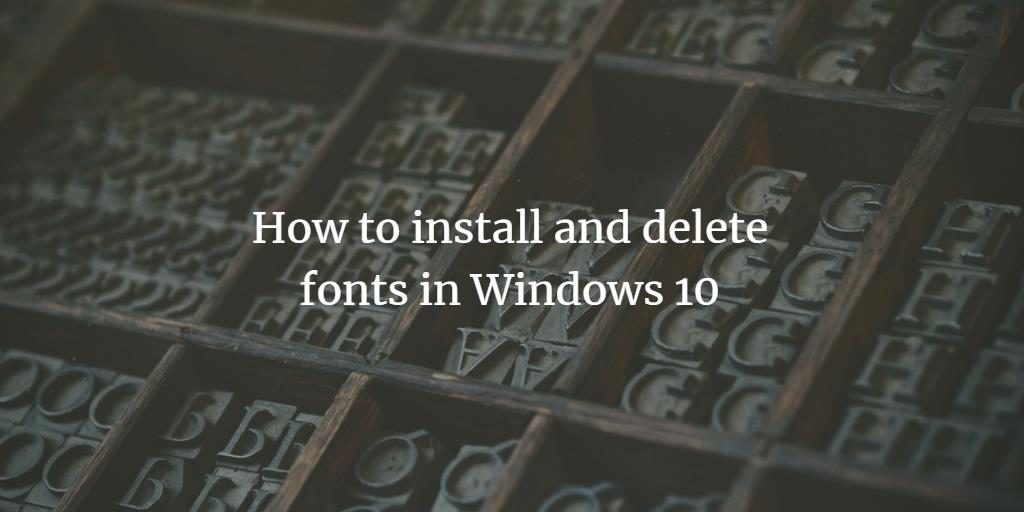 We all want out work to stand out from the rest by being more stylized and presentable. Using the standard assortment of default Windows 10 fonts may not allow you to do this. While there's a wealth of fonts being offered by Windows 10, they don't suffice as literally everyone uses them and your typography can't stand out.
To stand out, you need the extra edge by the use of fonts that are found other than the Windows world. You can visit multiple websites online that provide free fonts and typefaces and you can download them instantly. Good fonts act as the finishing touch for your document, presentation or project. So don't settle for a font like Comic Sans, as it will only ruin the overall look and feel and readability of your document.
Installing and deleting a font in Windows 10 is pretty similar to how it was being done in earlier versions of Windows. You can start off by downloading your required font from an external source.  Just remember to download fonts from reliable and trustable sources, not from websites that offer a lot of un-necessary pop-ups maybe. Once you've downloaded the font, just follow the below steps:
Install fonts in Windows 10 - A simple Right-click
There are a number of ways you can install a font in Windows 10 but this is by far the easiest way you'll come across.
Step 1: You'll need to start of by extracting the font .zip or .rar folder
Step 2: Now simply right click the font file and click on Install
Step 3: You may in fact want to preview the font while installing it. In that case double-click on the font file to open it in Font Viewer
Step 4: From the new window you can preview the font variations and if you like it, you can continue installing it by clicking on the Install button
The font you've just installed will appear throughout Microsoft applications like the rest of the fonts do. So keep installing any cool fonts that you like, because even if you don't like one, you can simply uninstall it.
Uninstall fonts in Windows 10 – With the Control Panel
Uninstalling fonts is as easy as installing them in the first place. Just follow the steps below:
Step 1: Use your Windows Search Bar or Settings to launch the Control Panel
Step 2: Navigate to Appearance and Personalization and click on Fonts
Step 3: You'll be shown all the fonts that are being used by Windows 10. Choose the one you want to delete and click on it
Step 4: From the bar on top of the fonts, you'll find the delete button. Click on it and you'll be done
To wrap it up, with the help of this guide you've been well equipped to manage font installation and un-installation. Just be careful not to delete default system fonts because they're tricky to re-install and may mess up the way your apps look.