Last Updated on May 8, 2018 by admin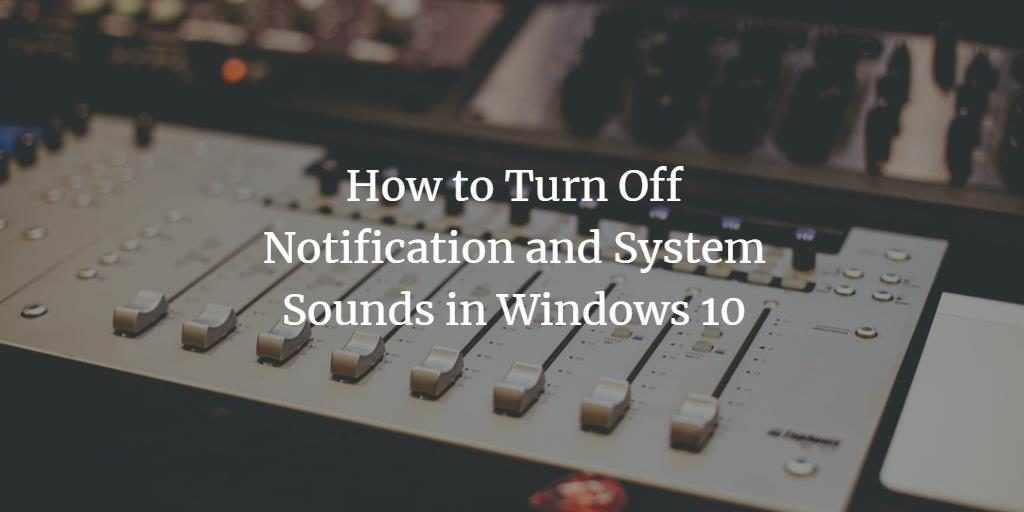 No one can deny the importance of different system notifications. Be it a USB getting plugged in or your battery running out of juice, you definitely want to be notified. But do you always want to hear all the chimes and dings that come along with these notifications? Whether you're using your PC at home, in office or in college, you might come across situations where you just want to shut off the notification sounds and do your work in peace.
Turn Off Notification and System Sounds in Windows 10
To solve this problem Microsoft introduces an Action or Notification center that served its users with notifications like Google Android phones did. In case you missed out on a notification, you can always view the clubbed notifications from this Action center. Essentially, Windows 10 helps you stay on top of your banner notifications using the right-lower corner of your screen without you having to hear annoying notification sounds for every new notification. Follow this manual to learn how to turn off these notification and system sounds for specific apps, events or even turn them off completely.
1. Turn off notification and system sounds for a specific app
Turning off system and notification sounds for specific apps in Windows 10 is as easy as you control notifications on your smartphone. Just follow the steps below:
Step 1: Click on the Notification icon on the system tray area located on the taskbar at the bottom of your screen.
Step 2: Click on the All Settings button.
Step 3: From the new pop-up window called Settings, select and click on the "System" option.
Step 4: From the menu on the left, click on the Notifications and actions option
Step 5: Select the app you'd like to block notifications from and scroll down to the option where it says "Play a sound when a notification arrives" and toggle the switch to "Off".
2. Mute sounds for specific Windows 10 events or all events
You can even mute sounds for a specific event using the Control panel using the following steps:
Step 1: Launch the Control Panel using your search bar.
Step 2: Select the "Sound" option.
Step 3: From the new pop-up window, select the Sound tab and choose the program event you'd like to turn off the sound for.
Step 4: Once you've selected your event, simply click on the Sound dropdown list and select "None".
Step 5: If you want to mute your system and notification sounds completely simply click on the Sound Scheme drop-down list and click on "No sounds".
Step 6: Click on Apply and OK to save your changes.
Final Words
Congratulations! Now you're a pro at turning off notification and system sounds for specific apps or events. You're even equipped to turn off all system sounds completely if you find the chimes and dings super annoying. Just remember, you'll still be able to access your notifications from the Windows 10 Notification center any time.