Last Updated on April 18, 2021 by admin
By default, there is only a single desktop available in every operating system including Windows 10. However, we can always create more virtual desktops right according to our own choice. Virtual desktops let us stay organized if we are habitual of using multiple applications at the same time. We can group similar type of applications on one desktop and use other virtual desktops for other different types of applications. The article below will tell you how to create a virtual desktop, how to switch between multiple desktops, how to move a window from one desktop to another and after doing everything, how to close a virtual desktop.
How to Add a New Virtual Desktop
For creating a new virtual desktop, you need to perform the following steps:
In your taskbar, locate the Task View icon. It is shown below:

Click on this icon to open task view which is shown below: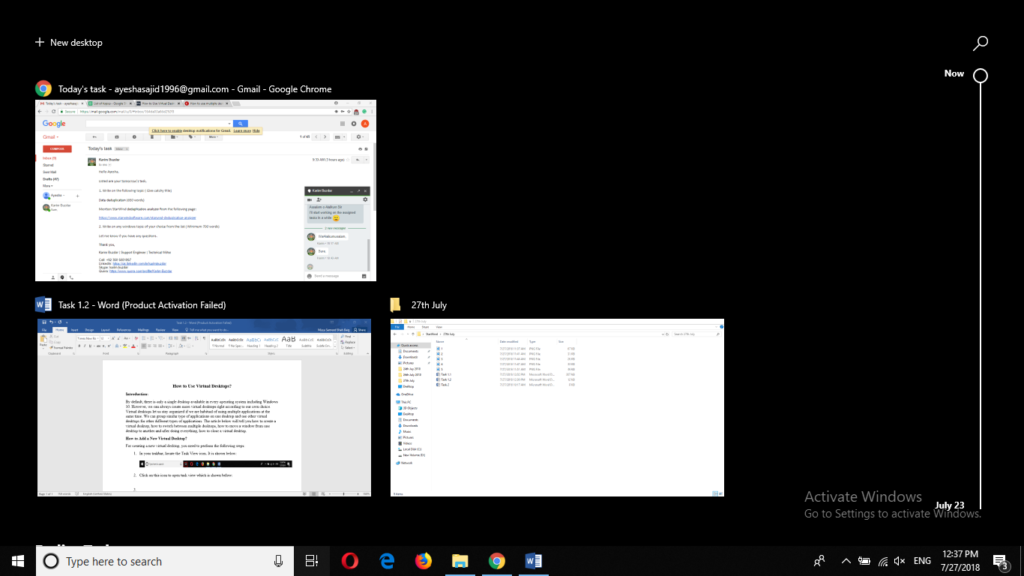 From the window shown above, click on the + New Desktop icon shown at the top left. After this, a new virtual desktop i.e. Desktop 2 will be added to your list as shown below:

You can also press Win+ Ctrl+ D to create a new virtual desktop without following any of the above-mentioned steps.
How to Switch Between Multiple Desktops
For switching between multiple virtual desktops, just click on the task view icon from the taskbar. Here you will find a list of all your desktops. Just click on any desktop on which you want to work from this list. In this way, you will be able to switch between different desktops. For example, if I want to go to my Desktop 2, I will simply go to the task view and click on Desktop 2. So now, my second desktop will be displayed which is shown below: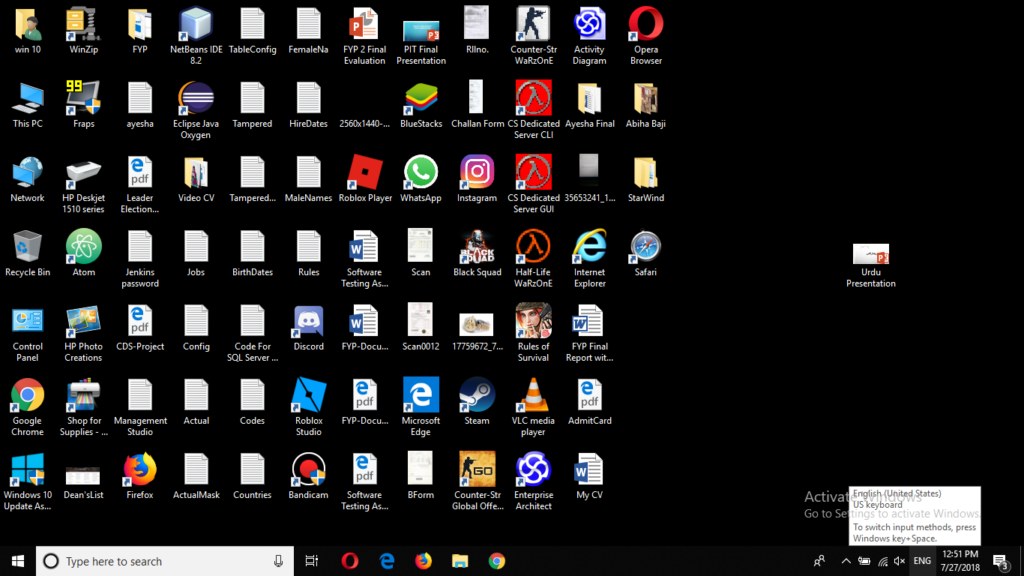 Moreover, you can also perform the same task by pressing Win+ Ctrl+ left/ right arrow key.
How to Move a Window from One Desktop to another
To perform this task you need to do the following steps:
Open task view by clicking on its icon on the taskbar.
From the list of available desktops, hover over the desktop whose window you want to move. By doing this, you will find a list of all the windows that are currently opened on that particular desktop. For example, I want to move the Google Chrome window from my Desktop 2 to Desktop 1. Therefore, I will hover over my Desktop 2 and its list of windows will appear. This list is shown below: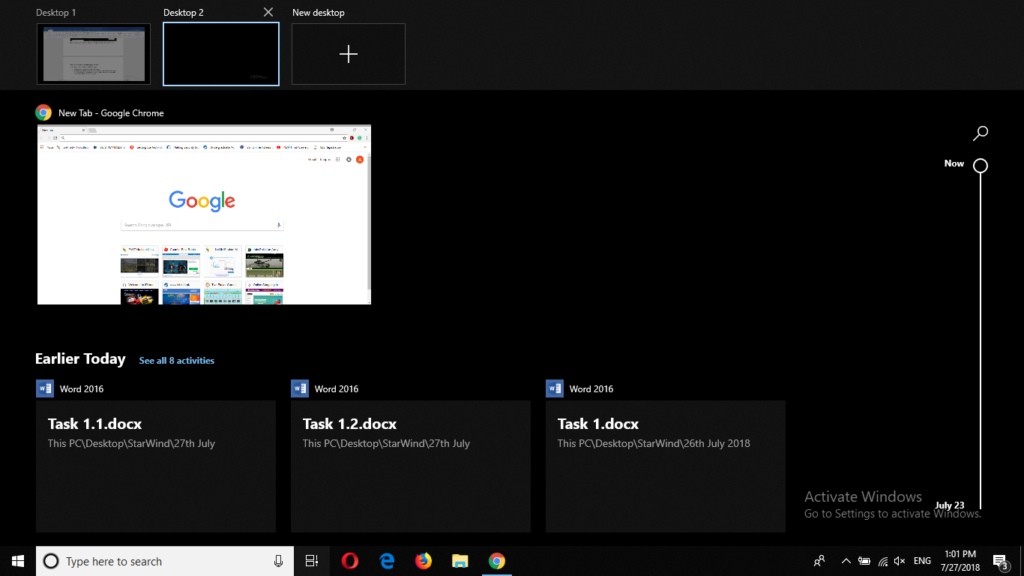 Now just right click on the Google Chrome window shown in the list, from the cascading menu, select Move to, and then click on Desktop 1. This is shown below: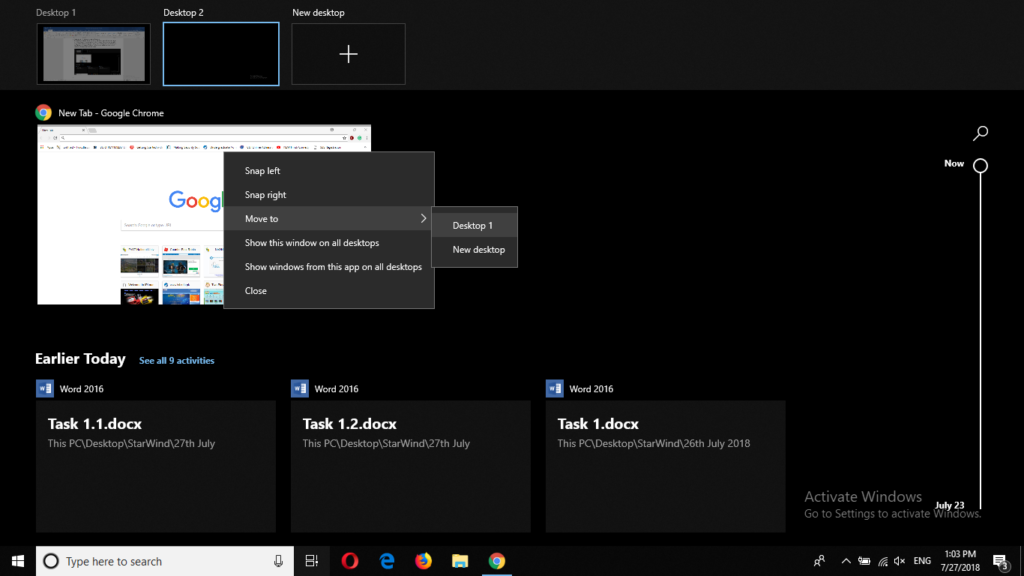 In this way, your Google Chrome window will be moved to Desktop 1. You can also achieve the similar functionality by dragging the Google Chrome window from the list and dropping it in Desktop 1.
How to Close a Virtual Desktop
For closing a virtual desktop, just click on the task view icon located at the taskbar. Click on the X icon present at the top right corner of the desktop that you want to close. This is shown below: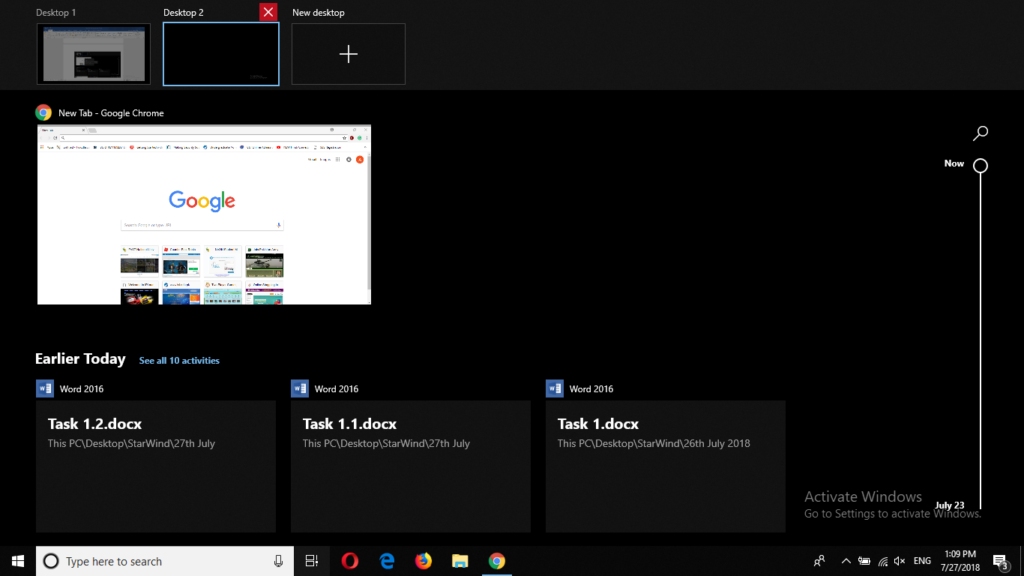 Now, the Desktop 2 will no longer be there in the list of desktops. You can do the same thing by opening Desktop 2 and pressing Win+ Ctrl+ F4.
Conclusion
In this way, you can very easily create and work with virtual desktops. They let you organize your tasks according to your choice and also prevent your workplace from looking messy. After taking full advantage of the virtual desktops, you can simply close them without getting yourself into any trouble.