Last Updated on April 18, 2021 by admin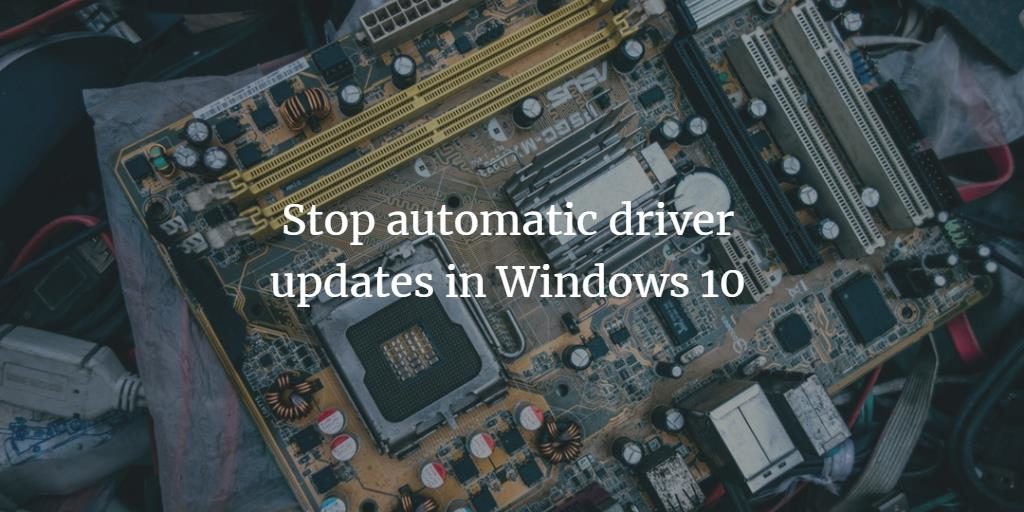 If you're looking to stop all the automatic driver updates that come with the overall Windows 10 update package, you've come to the right place. Windows 10 has indeed tried to make the smoothest and friendliest user experience by rolling out obligatory OS updates. However things can get pretty nasty if the automatic driver update isn't fully compatible with your device. You might even be fairly satisfied with your current driver performance and an upgrade wouldn't mean much to you.
So let's not keep you waiting from learning how to stop automatic driver updates in Windows 10. Truth is there are ways to handle an already downloaded driver update by using the Un-install update option or performing a roll back action on the faulty driver. You can even use downloadable tools to hide or block certain updates. But we suggest you to nip it in the bud thereby absolutely stopping automatic driver updates in Windows 10.
Easiest Method: Use the Control Panel to prevent automatic driver updates
It's quite easy to stop drivers from getting automatically updated using your Control Panel in Windows 10. Just follow the steps below:
Step 1: From the Start Menu, launch the Control Panel.
Step 2: From the options displayed, choose System.
Step 3: A new window will pop-up. Choose Advanced System Settings from the menu on your left.
Step 4: The system properties window will pop-up. Open the Hardware tab.
Step 5: From the Hardware tab click on the Device Installation Settings.
Step 6: A new window will pop-up prompting you with two options i.e. yes and no. Mark "No" to stop automatic download of manufacturer's apps.
Step 7: Click on Save Changes.
Second Method: Change Group Policy Settings
You can also use this method to prevent automatic downloads of Windows 10 driver updates.
Step 1: Simply type in gpedit.msc in the search box on your desktop and select the Edit Group Policy option.
Step 2: Follow the following navigation steps: Computer Configuration > Administrative Templates > System > Device Installation > Device Installation Restrictions.
Step 3: Once you've navigated to Installation Restrictions, from the right pane menu choose the option "Prevent Installation of Devices not described by other policy settings" and then click on Edit.
Step 4: From the new pop-up window, mark the Enabled option and click on OK.
Final words
Using one of the above methods should completely fix your problem. The last things you want is a faulty Windows driver update messing up and ruining your Windows 10 experience on your PC. You should keep in mind that not all automatic Microsoft windows are bad. Sometimes they're essential for improving your PC's security, utility, and performance. Once in a while, you can still get your hands on critical and necessary updates manually and give your PC's OS a boost. Also, remember that you can go back and reverse these setting any time you want to. This is in fact the beauty of Windows 10.