Last Updated on April 18, 2021 by admin
Along with all the other changes that Windows 8 introduces to the operating systems' family, the ones made to the Task Manager will likely be welcomed by most users. Along with a revamped interface it brings along an enhanced pool of functionalities.
Opening the Task Manager is still done in the old way: you can either right-click the taskbar on the classic desktop and choose the appropriate action or press Ctrl + Alt + Del. As before, it is also available from the applciation menu which however is now part of the Metro menu.
Upon opening you will only be presented with a small window offering you to handle running application, which might be a good way to bringing the manager closer to unexperienced users. By clicking on More details, you will get to the new detailed Task Manager view, having all the options you had in earlier versions, plus, a few new ones.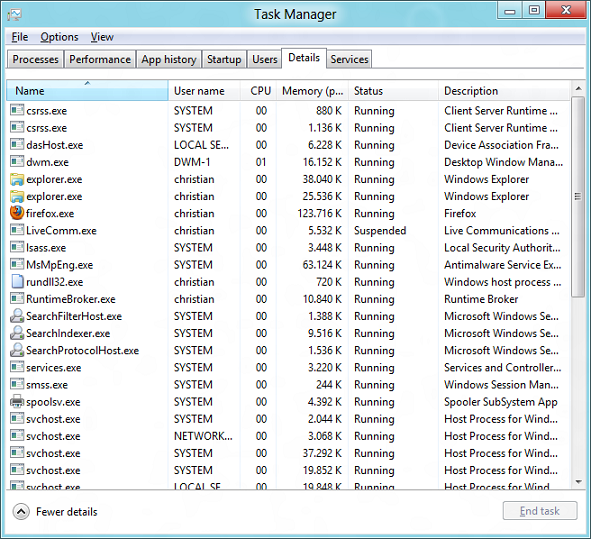 You will notice a few more tabs in the new manager - the Details, Users and Services tabs are basically what you will be used to from previous versions. The performance tab has visually been enhanced and now features Disk and Network usage. The Startup tab gives you the option to edit the applications that are run on system startup just like msconfig did - this function has now moved to Task Manager. App history gives you an overview of your App usage (CPU, Network, Tile Updates). The Processes tab however is the big deal.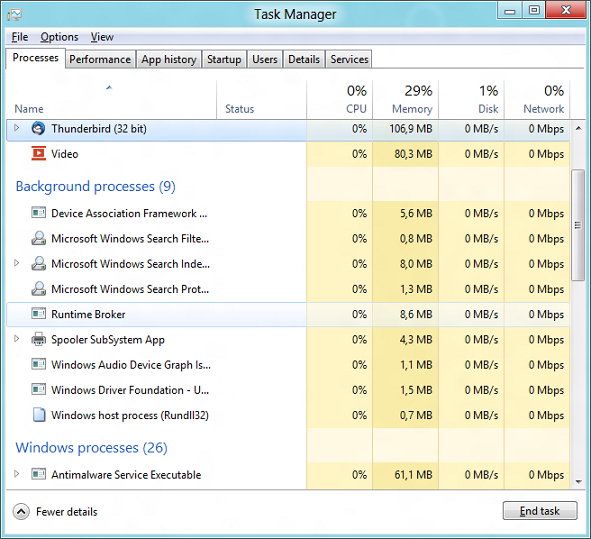 It lists all the running processes, divided into categories (Apps, Background processes, Windows processes) and furthermore shows all their resource usage. Heavy resource users are displayed on a dark yellow to orange background - the color gets lighter the less resources the process uses.
Notice that the Apps you do not use at the moment do not drain any CPU resources - they are put to "sleep" if running in the background.