Last Updated on December 14, 2011 by CSch
To convert your VBScript to an .exe file, or rather make them look like one, there is a native Windows tool called IExpress which you can access through your menu's searchbar.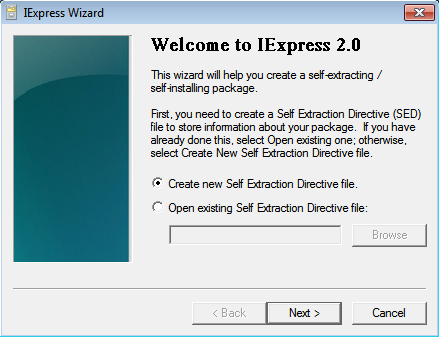 Select Create new Self Extraction Directive file and choose Extract files and run an installation command afterwards. Enter a package title and decide whether you want the user to be prompted or not and if you want a licence to be shown. Now browse the executables you want to wrap and select the files for installation in the next window. If they are not displayed in the dropdown menu then type their name in again manually.
If you want multiple scripts to be installed, enter cmd /c script1.vbs && script2.vbs for example. After some more configuration the executable will be placed in the directory you specified in one of the last steps.